T
HE
Y
EAR
S
O
F
AR:
S
EPTEMBER

2019
We have a lot of news! Don't have much time?
Just skim the HEADLINES and our TEXT IN BOLD,
and you'll get the gist of what's been happening.
1. Take Action
• Support HR 2407
• Join in WWPPI 2019
2. UMKR & Co.
• New UMKR Co-chair
• AC Resolutions in 2019
• Response to GC2019
• Protecting Free Speech
• MFSA says 'No'
• GBCS & Ecumenical Action
• Methodists see bitter fruits
3. Partners' News
• Christians in Palestine: news from Kairos Palestine & Sabeel
• FOSNA leads #CounterCUFI
• PCAP rejects Trump's Deal
• Ghettoization of Jerusalem
• ELCA, UCC and UUA:
- National Assemblies & more
- Alex Awad makes an impact
• CMEP Speaks Out
• AMP: 500 Strong in DC
• JVP Statement on Zionism
4. In Focus
• Black-Palestinian Solidarity
5. Holy Land Beckons
• Calls for Responsible Tourism
• 2 Holy Land events in 1 trip
• Trips in 2019, 2020, & beyond
6. Cool Tools
• Got Podcast?
• Visualizing Palestine
• Video series on Gaza 2014
• Palestine as a Queer Struggle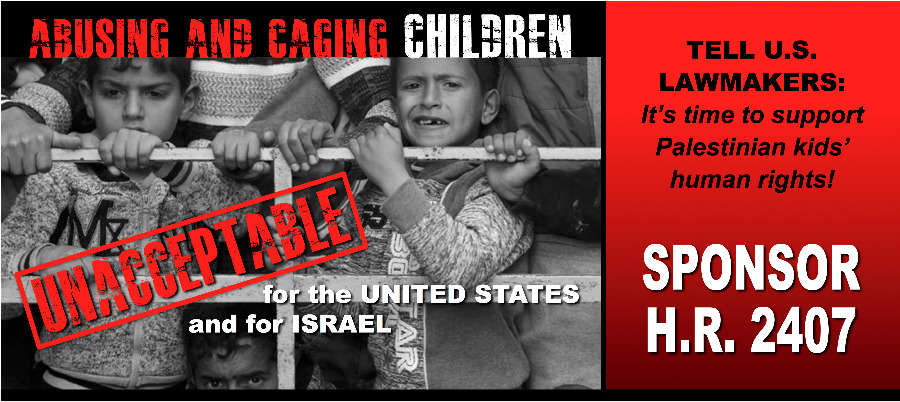 US $$$ for Abuse of Children: This. Must. Stop.
Many American citizens and lawmakers have denounced as "UNACCEPTABLE" the caging and abuse of migrant children at U.S. borders.
But abusing and imprisoning Palestinian children has been ACCEPTABLE and standard practice for many years, under Israel's military occupation, which is generously subsidized by Congress with U.S. military aid.

H.R. 2407 – The Promoting Human Rights for Palestinian Children Living Under Israeli Military Occupation Act – seeks to end U.S. financing for abuse of children in Palestine or anywhere else.
Palestinian kids are often seized from their families in the middle of the night, bound and blindfolded, traumatized, strip searched, beaten, and tortured. Roughly 10,000 Palestinian children have suffered such abuse since the year 2000.

It is time for our lawmakers to stop using our tax dollars for the military abuse of Palestinian kids and children worldwide.
See more in our alert and – if you haven't already – Contact Congress now!
World Week for Peace in Palestine Israel: WWPPI 2019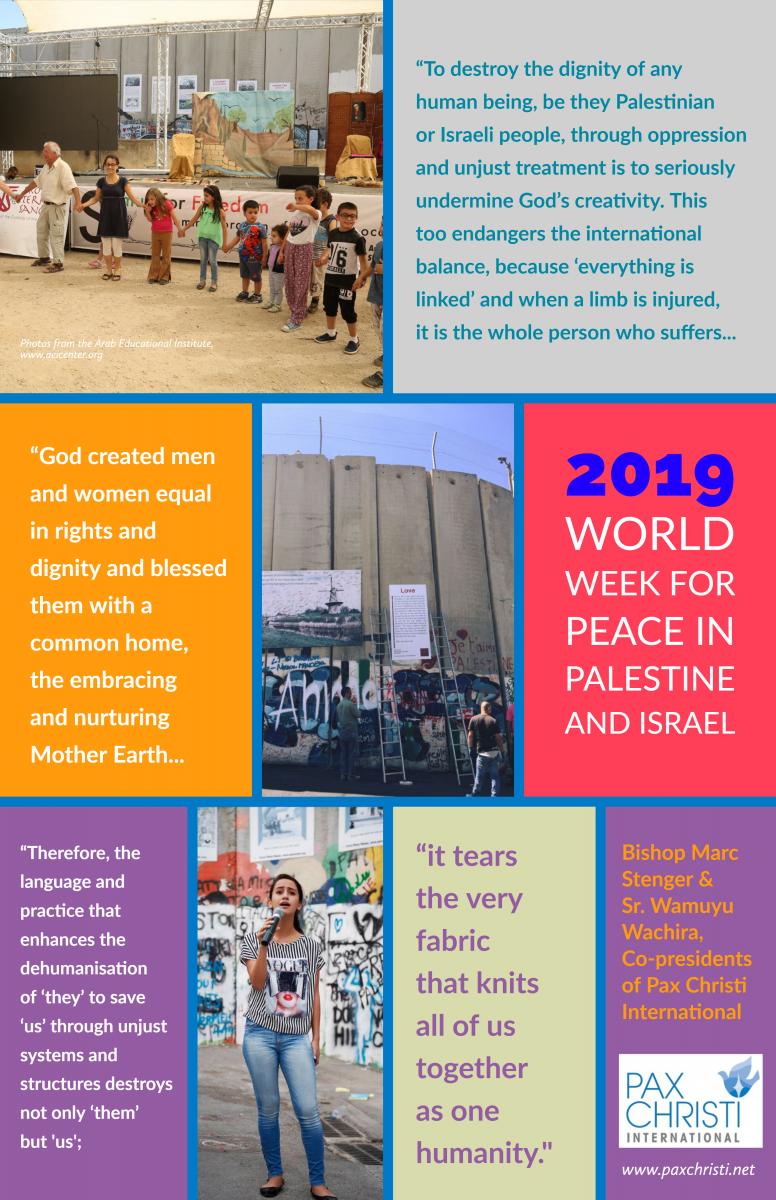 15-22 September 2019 – This annual Christian global awareness week, organized by the World Council of Churches, offers resources that churches can use in September and throughout the year.

During this week that includes the International Day of Peace (21 September), people of faith are encouraged to participate in their worship services, educational events, and acts of support for a just and sustainable peace for both Palestinians and Israelis.

This year's theme - Humanity and equality in God's Creation – has been chosen to challenge racism, xenophobia, stigmatization, exclusion driven by populist policies and other growing trends.

The aim is to inspire and revive concern for the human dignity of all people equally, regardless of ethnic, religious or political differences, and the struggle for the realization of the equal and inalienable human rights of all.
Learn more, get resources
See more resources from Pax Christi UK
2.U
MKR

&
M
ETHODIST
N
EWS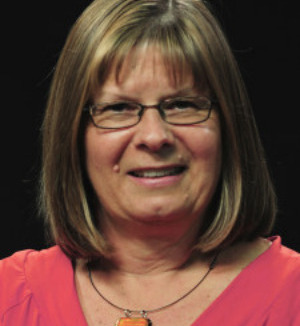 UMKR News
A New Co-Chair for UMKR
In August, longtime UMKR activist and chair of our Boycott & Divestment Committee Lisa Bender joined Rev. John Wagner as co-chair of UMKR.
UMKR notes with deep gratitude the exemplary leadership of Andrea Whitmore, who has been our co-chair since 2016. See more about Lisa and Andrea in UMKR's full announcement.
UMKR News
United Methodist Regions Adopt 8 Resolutions in 2019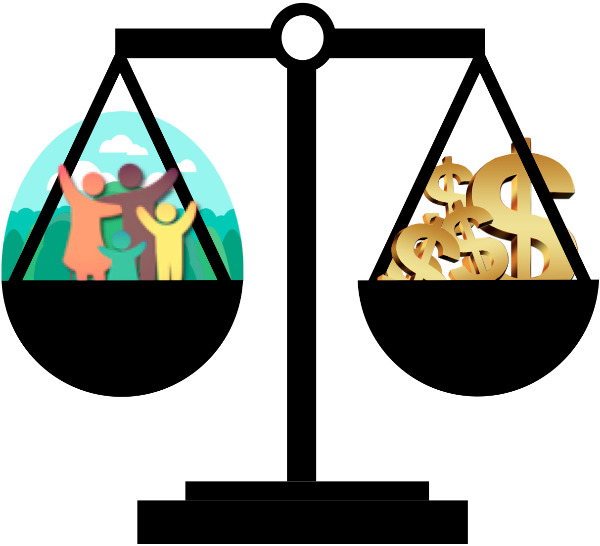 Resolutions on ethical investing prepared by UMKR were adopted by three annual conferences (regional church bodies) this year: New England, Upper New York, and Northern Illinois; two of those are also sending petitions to the UMC General Conference 2020.
Activists in the Peninsula Delaware and California-Nevada conferences addressed another of UMKR's key action issues – Israel's military detention and abuse of Palestinian children.

The petitions to General Conference call for the church to exclude "sovereign or government debt in [bonds of] states conducting prolonged military occupations as they violate international law and human rights standards." Besides the Israeli occupation, those would include Turkey's occupation of Northern Cyprus and Morocco's occupation of Western Sahara.
Cal-Nevada's resolutions describe the alarming conditions for kids living under Israel's "brutal blockade" of Gaza, lift up Gazans' courageous Great March of Return, and call for political action on federal legislation. Learn more about resolutions adopted this year in UMKR's report
UMKR News
UMKR Responds to GC 2019 and Judicial Council Rulings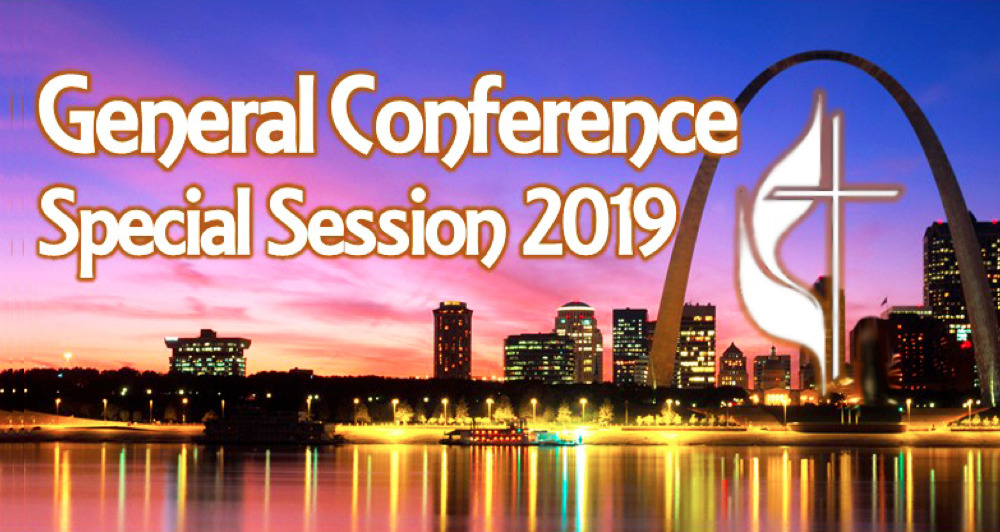 FROM THE STATEMENT:
"We are deeply saddened that the decisions coming from General Conference 2019 did not lead our church in a way forward together, but instead increased the pain of our LGBTQ siblings, [and] strengthened punitive enforcement of exclusionary policies....

UMKR renews its commitment to the vision of the Love Your Neighbor Coalition, to mutually support justice efforts on behalf of oppressed peoples and marginalized communities within our own denomination and around the world.... UMKR also renews our invitation to all United Methodists...join with UMKR in fulfilling our founding mission: seeking freedom, justice, and equality for all Palestinians and Israelis." See the full statement
UMKR News
UMKR Opposes Senate's Anti-Free Speech Bill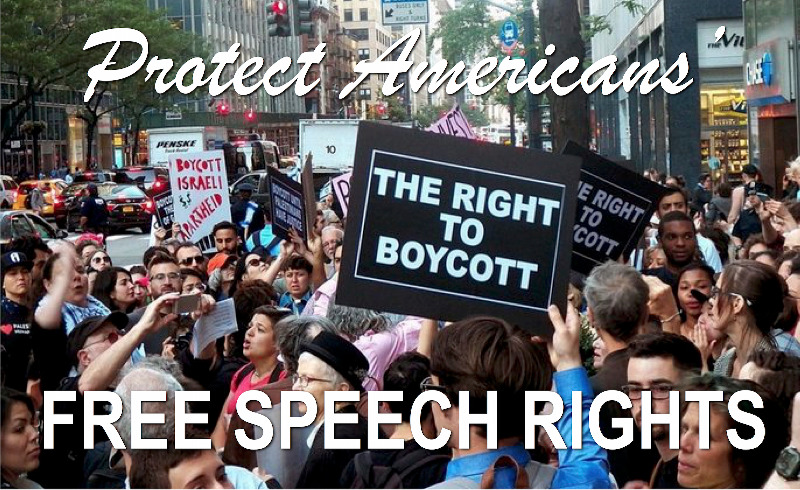 In January 2019, UMKR helped to organize a statement with over a dozen faith-based partners to oppose Senate bill S.1 of 2019. The bill attempts to provide legality for unconstitutional laws in U.S. state legislatures that seek to penalize support for boycott and divestment campaigns for Palestinian rights. See the statement
The Interfaith Statement Opposing Senate Bill S.1 - EXCERPTS
"As faith leaders, we have long used the nonviolent instruments of boycott and divestment in our work for justice and peace. These economic measures have proven to be powerful tools for social change, from strengthening labor rights for farm workers to ending apartheid in South Africa."
"As has been warned by the ACLU and other civil liberties groups, anti-BDS legislation is an extremely grave attack on free speech that threatens the use of boycotts, divestment, and sanctions for other peace and human justice causes."

"WE CALL ON ALL AMERICANS to join us and the ACLU in defending our First Amendment right to freedom of speech." Read the full statement
⊲ O
THER
M
ETHODIST
N
EWS
⊳
Other Methodist News
United Methodist Board Endorses Congressional Bill
The UMC's General Board of Church and Society (GBCS) became one of the first institutional endorsers of groundbreaking legislation: HR 2407, the Promoting Human Rights for Palestinian Children Living Under Israeli Military Occupation Act. UMKR has also endorsed this bill. See the list of endorsing organizations See the action alert at the top of this newsletter for more about this bill.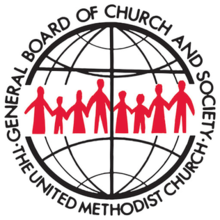 GBCS Joins Ecumenical Actions
10 Churches and Christian Organizations Reject Trump's Recognition of Israeli Annexation of the Golan Heights
March 28, 2019 – "...we fully reject this unilateral declaration and are especially concerned about this Administration's disregard for international law.... the Golan Heights are occupied and were acquired by force in the 1967 War in contravention of international norms." See the statement & signers

18 Churches and Christian Agencies Write to U.S. Congress: "Restore Funding for UNRWA and Bilateral Programs"
March 2019 – "Denying basic services to vulnerable populations will not bring about peace and security for anyone in the region. Furthermore, humanitarian assistance must be provided on the basis of need alone; it is unconscionable and against universally-agreed humanitarian principles to withhold aid to extract concessions from political leaders." See the letter to Congress and signers
SEE ALSO: the Feb 2018 ecumenical letter to President Trump to restore funding and stop politicizing humanitarian aid.
Other Methodist News
MFSA Says 'No' to Eurovision in Israel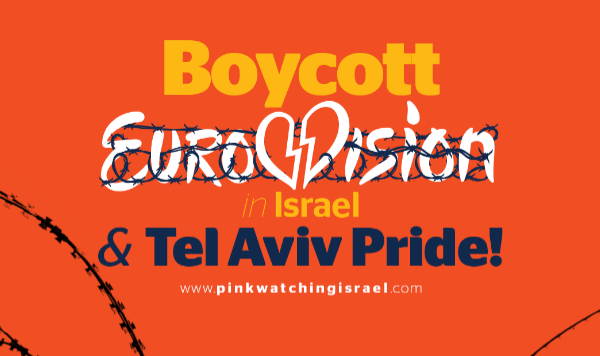 In January, Methodist Federation for Social Action (MFSA) joined over 60 organizations worldwide in calling on LGBTQIA communities to boycott the highly popular Eurovision contest in Israel.

MFSA has championed the cause of full inclusion for LGBTQ persons in the United Methdodist Church for decades. See the press release
See the full statement and signatories at PinkwatchingIsrael
Keeping Palestine in Our Minds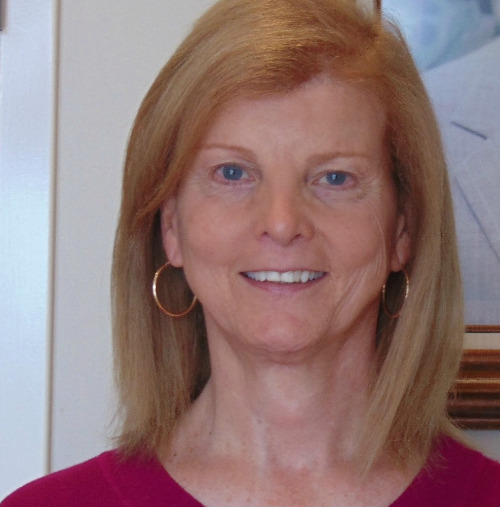 MFSA has been raising United Methodists' awareness of Palestine with their Devotions for the Advent and Lenten seasons.
• During Advent 2018, a transgender United Methodist missionary serving in Bethlehem shared her thoughts on privilege and discrimination in the US and Palestine and the importance of transformational change in ourselves, our institutions and our societies. See her message
• In April 2019, an MFSA Lenten Devotion written by Lisa Bender (then the UMKR Boycott and Divestment Committee Chair, now UMKR Co-Chair) who describes her first experience seeing the reality of the Israeli military occupation and how that galvanized her activism in UMKR. See her message

Do you get MFSA's mailings? Every United Methodist justice advocate should know about MFSA's work! You can subscribe here – mfsaweb.org: SCROLL to the bottom of the page.
Press Release on the LGBTQIA Boycott of Eurovisions - EXCERPTS
"More than 60 queer and trans liberation organizations from nearly 20 countries across Europe and beyond are calling on global LGBTQIA communities to boycott the 2019 Eurovision Song Contest in Israel."

"The signatories condemn Israel's "shameful" use of Eurovision...to "distract attention from its war crimes against Palestinians" and "forward its pinkwashing agenda, the cynical use of gay rights to distract from and normalize Israel's occupation, settler colonialism and apartheid."

"The statement, initiated by Palestinian queer groups, recalls the 1969 Stonewall Riots symbolizing LGBTQIA resistance against daily harassment and violence, drawing parallels with the tens of thousands of Palestinians in Gaza protesting." MFSA has the full press release
Other Methodist News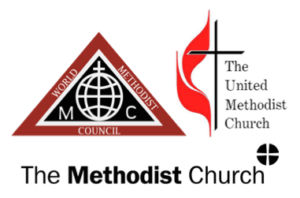 Global Methodist Delegation Sees "Bitter Fruits" of Israeli Occupation
A delegation of leaders from the World Methodist Council, the British Methodist Church, and The United Methodist Church visited the Holy Land in July, for the seventh anniversary of the opening of the Methodist Liaison Office in Jerusalem, which is jointly sponsored by their three organizations.
In their statement after the visit, they expressed horror at the military occupation of the Palestinian people:
"We witnessed the bitter fruits of military occupation that have fallen disproportionally upon the Palestinian people....We heard stories of families being separated, the denial of basic human rights, inequality of treatment, and the need for the Palestinian people to have a voice in the process of governing their own lives and future." See their full statement
⊲
CHRISTIANS IN PALESTINE
⊳
PARTNERS: Christians in Palestine
Alarming Rise in House Demolitions by Israel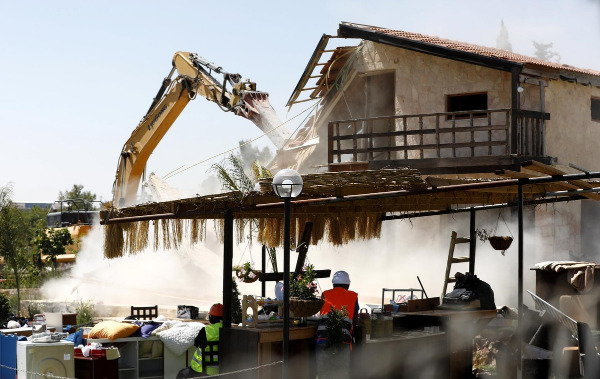 Many organizations and journalists have reported on the alarming increase in Israel's demolition of Palestinian homes, starting in 2018 and rising more quickly in 2019. Political analysts have also noted the not-coincidental timing with Trump's wholehearted endorsement of Israeli policies and his administration's punishing actions against the Palestinian people.
In September 2019, Kairos Palestine published a statement addressing these growing Israeli crimes under international law; see excerpts below.

Statement on House Demolitions by Israeli Occupation Authorities
"In violation to [international] law and to implement colonial plans, the Israeli authorities demolish houses, confiscate lands and build settlements on their ruins."
"Their main goal is to compel Palestinians to go away, in every possible way. Houses' demolitions are one way. Our only sin is that we are in our houses and our land. Their real wish for us is not to exist."
"We address the state of Israel with a genuine word of truth: It is God's law that preserves and protects, but laws of demolition can only lead to the demolition of the lawmaker himself. Israelis should always remember that they are the creation of God, and that Palestinians are the creation of God too. In order to guarantee their security, future and survival, Israeli's must deal with Palestinians on the basis of the God given equality and dignity." See the full statement
PARTNERS: Christians in Palestine
German Parliament Smears BDS, Palestinians Respond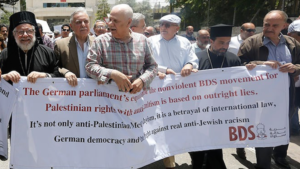 In May, the German Parliament adopted a resolution that not only that denounces the BDS movement as anti-Semitic, but also compares it to actions in Germany during the Nazi era. That has generated a firestorm of response from human rights defenders globally. The resolution was universally condemned by every sector of Palestinian society, including the Palestinian Christian community whose clergy joined in the protests in Palestine.
Kairos Palestine issued a call to the German leaders to reverse this offensive resolution, asking "What other avenue would our German brothers and sisters ask us to take in order to overcome this historic injustice…?" For more on this story, see UMKR's report. We've also posted many statements from Palestinians and others, as well as op-eds.
See EXCERPTS of Kairos Palestine's statement below.

A Call for the German Bundestag to Reverse its May 17, 2019 Resolution, "Resisting the BDS movement decisively–fighting antisemitism" - EXCERPTS
23 May 2019 – "Christians in Palestine are saddened and confused to learn of the German Bundestag's passage of a resolution condemning the International Boycott, Divestment and Sanctions Movement (BDS) and making it equal to anti-Semitism."
"The Palestinian BDS movement embraces the logic of peaceful means of resistance against the ongoing occupation and the Israeli human rights violations and discriminatory measures against our people."

"While the Bundestag intends to protect Israel, by the anti-BDS law; putting Israel above the law will not help Israel....Israel needs people and states who can help it reconcile with Palestinians and put an end to its permanent way of war."

"Therefore, we ask with heavy-laden hearts, "What other avenue would our German brothers and sisters ask us to take in order to overcome this historic injustice...the denial of self-determination for Palestinians and their right to live in freedom and dignity, free of foreign control and occupation?"

"As to the false charge of anti-Semitism, the BDS movement is rooted in the Universal Declaration of Human Rights. It unconditionally opposes all forms of racism, including Islamophobia and anti-Semitism." See the full statement at Palestine Portal
PARTNERS: Christians in Palestine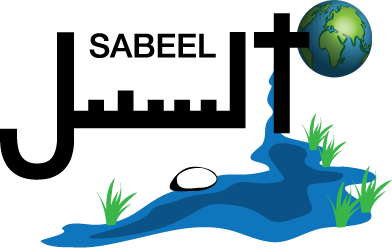 Cornerstone Magazine, Summer 2019
From Sabeel Ecumenical Liberation Theology Center
Cornerstone is Sabeel's premier publication, bringing you theological reflections on contemporary social and political events and Sabeel's ministry activities locally and globally.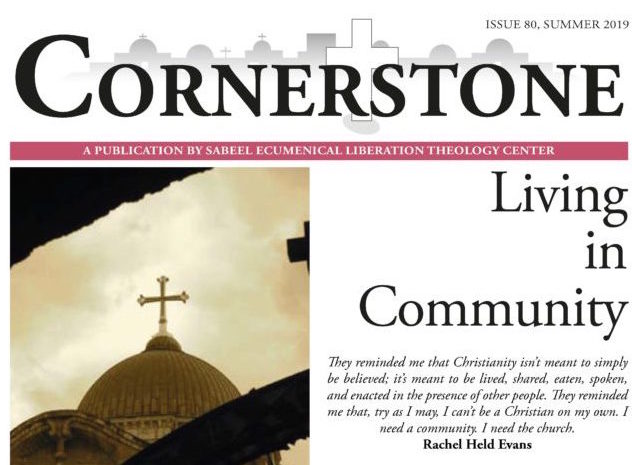 SUMMER 2019: CHRISTIANS IN COMMUNITY
Community is a key part of Christian life...This is especially vital in the Land of the Holy One where communities are divided by illegal Israeli settlements and in Gaza with its tiny number of Christians who work hard to make a big impact. In this edition of Cornerstone Sabeel explores various Christian communities both in Israel and Palestine. See & download it: sabeel.org/2019/08/21/christians-in-community See more Cornerstone issues, including some in French: sabeel.org/cornerstone-2/
⊲ OTHER FAITH-BASED PARTNERS ⊳
Other Faith-based Partners
Rise against Racism, #CounterCUFI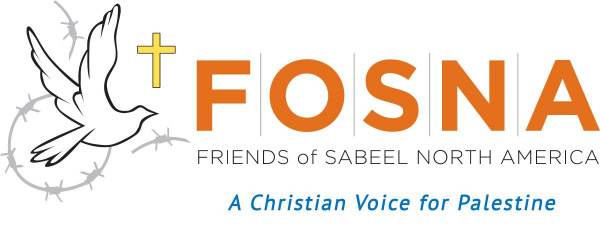 FOSNA led this groundbreaking action in July, when over 100 faith leaders and community organizers protested at the annual summit of Christians United for Israel (CUFI), the largest organization in the U.S. lobbying for unconditional U.S. support for Israeli government policies. Conference speakers included Israel's Prime Minister Benjamin Netanyahu and U.S. Vice President Mike Pence.
Diverse actions by justice advocates included disrupting speeches by Pence and CUFI founder, the Rev. John Hagee, shouting, "Israel kills children. Jews and Christians say no to Zionism." Outside the summit, protestors blocked one entrance of the conference center, and later an intersection, reading out the names of Palestinian children who have been killed or injured by Israeli apartheid policies.

This action was jointly organized and supported by: Friends of Sabeel North America (FOSNA), Jewish Voice for Peace (JVP), Americans Muslims for Palestine (AMP), and US Campaign for Palestinian Rights (USCPR). See FOSNA's report and a video of protesters' action
See this article in the Israeli paper, Haaretz: Trump Rolls Out the Big Guns for pro-Israel Evangelicals' Confab Ahead of 2020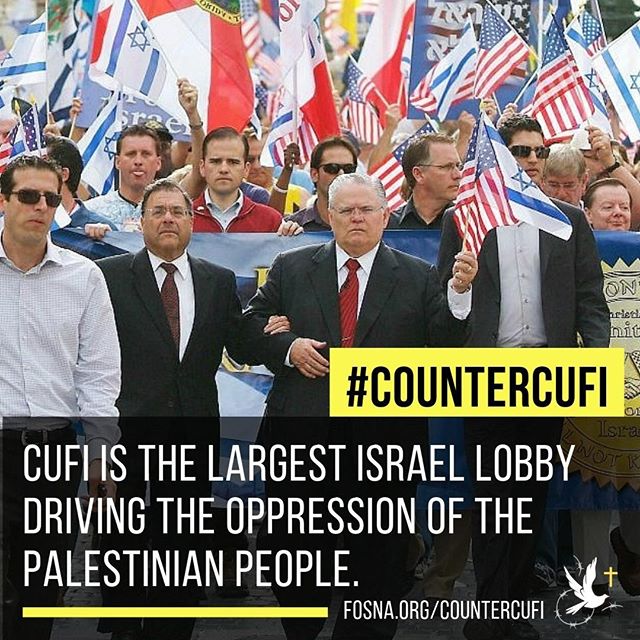 BACKGROUND: CUFI is a Christian Zionist organization led by the Rev. John Hagee (learn more about Christian Zionism at christianzionism.org). CUFI's ideology and politics include supporting anti-Muslim racism, anti-Semitism, and other systems of oppression. With millions of members, CUFI uses its political leverage to ensure ongoing U.S. support for Israel's colonization and military occupation of Palestine.

Yet for many years, CUFI has operated largely under the radar. Faith activists who care about universal human rights are beginning to change that, countering the un-Christian message and mission of CUFI.
Other Faith-based Partners


PCAP: "The Palestinian people will not be bribed into submission"
The Palestinian Christian Alliance for Peace (PCAP) issued a strong statement on the U.S. government's "economic workshop" held in Bahrain in June, an overture for Trump's so-called "Deal of the Century" to bring peace to Israel/Palestine.

Besides rejecting the blatant bribery, PCAP also says: "The Trump Administration is putting the cart before the horse because no economic assistance program can ever succeed if the Palestinian people do not have their right to govern themselves in a full sovereign nation with all its institutions." See the statement at Palestine Portal
See what these faith partners said about the Bahrain Conference and the Deal:
Churches for Middle East Peace (CMEP):
Kushner's Foreign Investment Plan Is No Substitute for Palestinian Freedom
American Muslims for Palestine (AMP):
Trump's Middle East Peace Plan Isn't a Plan & Won't Lead to Peace
____________________________________________________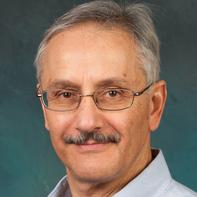 Jerusalem from the Lens of a Native Son: Ghettoization and Pauperization
Philip Farah is a co-founder and leader of Palestinian Christian Alliance for Peace (PCAP) and a longtime UMKR activist. This year, he visited his native Palestine and writes of his experience there, particularly the dismal transformation of Jerusalem:
"East Jerusalem has been ghettoized, making it extremely difficult for any Palestinians from other locations in the West Bank to enter it for any reason. No longer is it the transportation and commercial center that it used to be. It feels isolated from its historic lifeline and, while Israel does everything to make life miserable for all Palestinians under its control, Jerusalem seems to be the saddest of all urban centers in the West Bank." Read more
Other Faith-based Partners
Evangelical Lutheran Church in America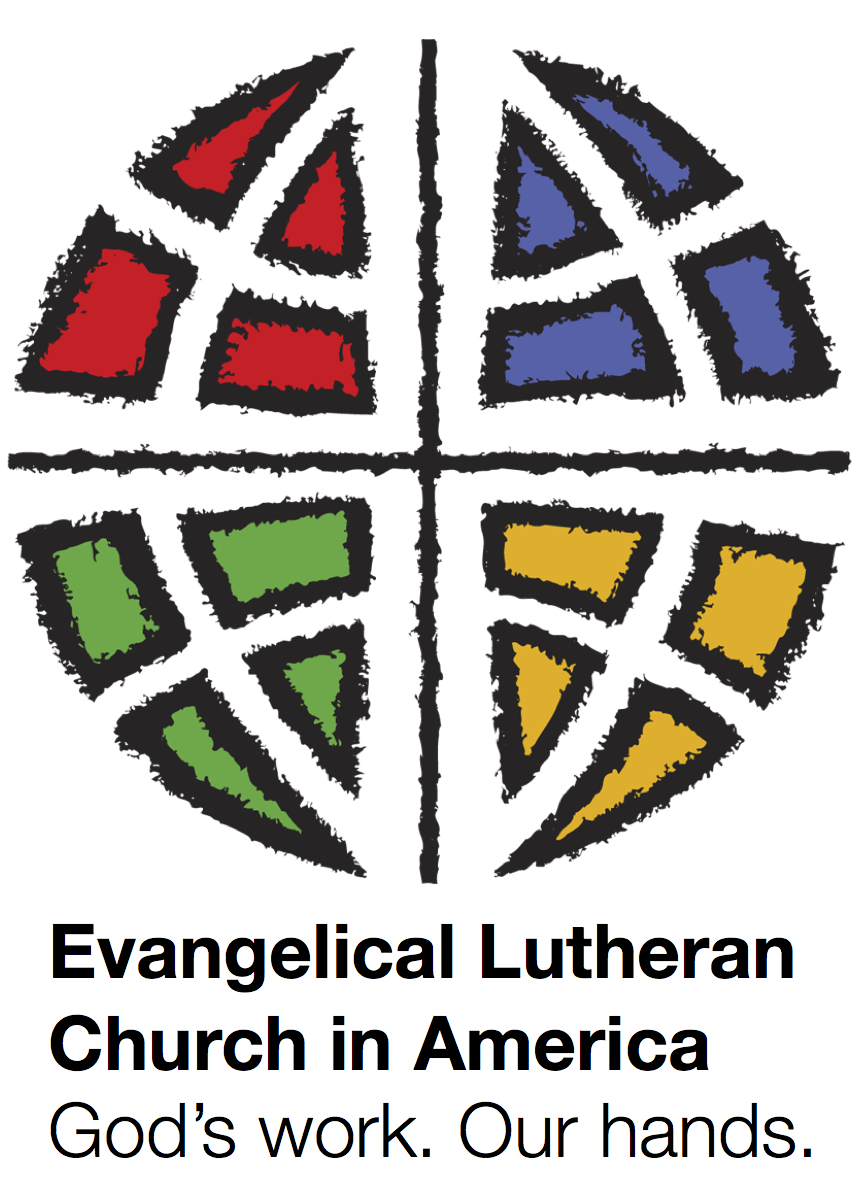 ELCA Assembly 2019 Adopts Four Actions on Israel/Palestine
In August, by a vote of 96%, the Churchwide Assembly of the Evangelical Lutheran Church in America (ELCA) adopted four Assembly Actions related to Israel and Palestine. The Actions address the church's human rights investment screen, justice for Palestinian children in military detention, political action to restore humanitarian aid, and more. Learn more

ELCA's Portico Joins Forces with UMC's Wespath
Earlier in 2019, Portico Benefit Services, the largest investor for the Evangelical Church in America (ELCA), announced two actions:
(1) implementing their Political and Civil Human Rights investment screen for their social purpose funds, and
(2) joining Wespath Benefits and Investments (of The United Methodist Church) in shareholder corporate dialogue with Caterpillar, a company of long-time concern to justice advocates for Palestinian rights.
Read Portico's press release
Other Faith-based Partners
United Church of Christ


UCC General Synod Calls for Action and Aid for Palestinian refugees
In June, the General Synod of the United Church of Christ (UCC) adopted the resolution "Addressing the State of Global Forced Migration." The resolution specifically highlights "Generations of Palestinian refugees displaced and dispossessed of their homes and property following the wars of 1948 and 1967, in the Middle East and beyond," as well as refugees in Latin America, Syria and Iraq, southern Asia, and other troubled regions. The Synod urges church members to support international law through "advocacy for the rights of refugees everywhere" and for Palestinian refugees specifically; it also calls for restoring vital U.S. funding for UNRWA, the UN agency that helps Palestinian refugees. See the UCC Report
_______________________________________________________________________________________________________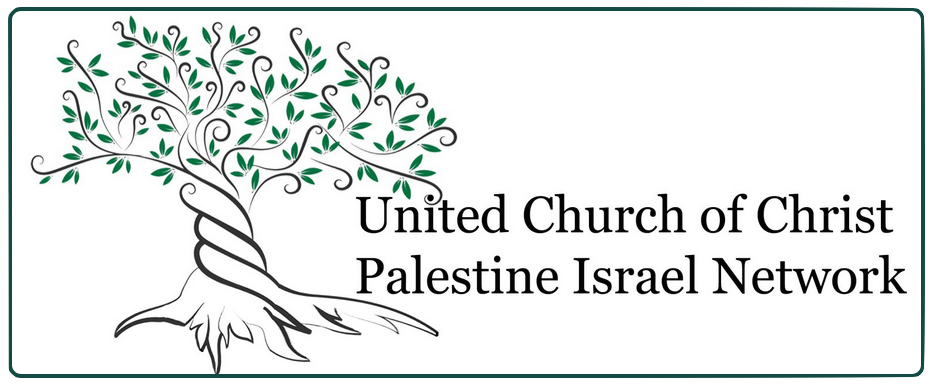 UCC Palestine Israel Network Statement:
The Kairos Moment Now: Toward a Human Rights Approach to a Just Peace in Palestine Download it
_______________________________________________________________________________________________________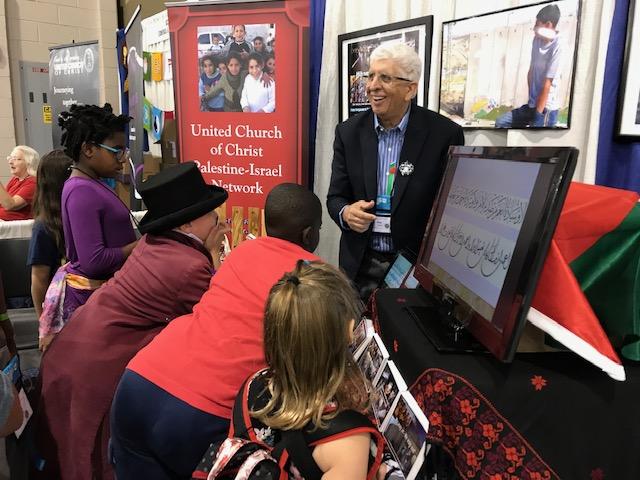 Alex Awad – UMKR Steering Committee Member and retired UMC Missionary – makes an impact at the UCC General Synod
From the UCCPIN eblast, July 2019:
Alex's presence at the UCC PIN booth provided an eye witness narrative of, as well as an immediacy and urgency to, the Palestinian struggle for justice and human rights. Born in Jerusalem in 1946, Alex and his family became refugees during the Nakba in 1948. As Alex said in an interview with Synod Newsroom volunteer Alice Foltz,"I cannot go back home," he said. "I cannot live in Palestine today."

The UCC PIN booth was visually compelling with an eye-catching, heart gripping "How Are the Children" banner prominently placed at the entrance to the booth....
"Why," several of them asked, looking at the photographs on the HATC banner, "is that child so upset?" "Why is that child caged in?" "What's going on here?" Questions flew.
Several gathered around Alex, listening intently, as he described the realities of Palestinian life under occupation. They had lots of questions for Alex and just as many opinions. Some expressed their opinions writing on the foam board apartheid wall in the front of the booth. "Palestine is good. We love them." "Treat people like people not animals." "Don't build a wall."
Read the UCC interview with Alex: "What it means to be a refugee"
Other Faith-based Partners
Unitarian Universalists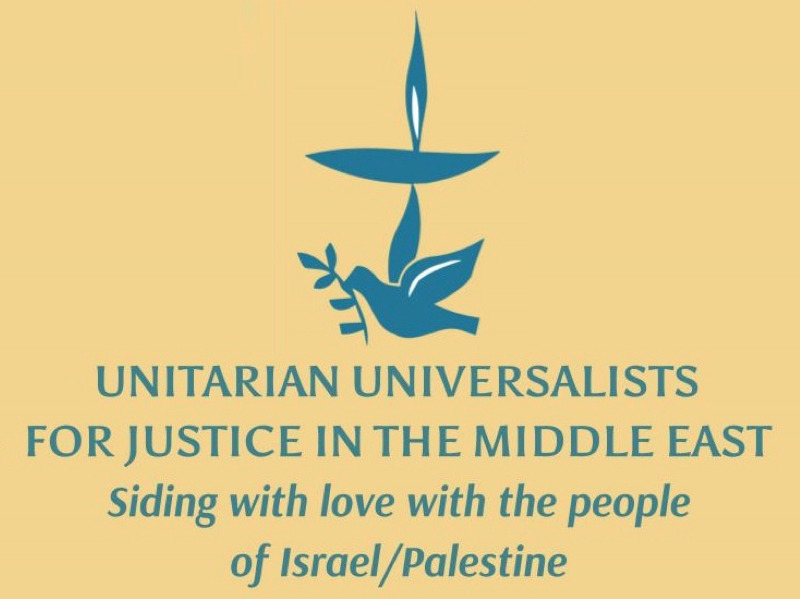 UUA General Assembly Supports the Right to Boycott
In June, the General Assembly of the Unitarian Universalist Association (UUA) voted with near unanimity to adopt an Action of Immediate Witness (AIW) that urges their members to oppose anti-boycott legislation by contacting state and federal lawmakers.

This AIW was sponsored by Unitarian Universalists for Justice in the Middle East (UUJME), and it also asks UUs to sign UUJME's petition calling on Congress to oppose such legislation. See the AIW and UUJME's flyer on anti-BDS legislation.
Other Faith-based Partners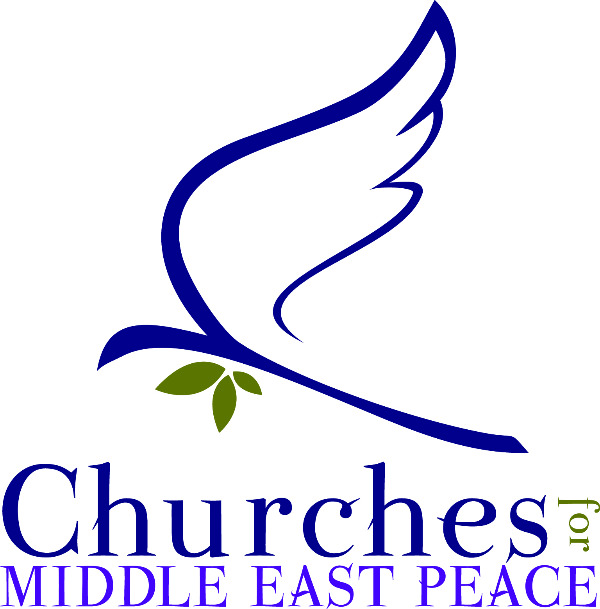 CMEP Speaks Out
Land Idolization and Annexation Sacrifices Human Dignity in Israel and the Occupied Palestinian Territories
25 April 2019 – Was Prime Minister Netanyahu's promise to annex all Israeli settlements in the West Bank if re-elected just pre-election bluster, or a serious commitment to quashing hopes for a two-state solution? Read more
CMEP Responds to Israeli decision to not allow Representatives Tlaib and Omar to Visit
On August 15, 2019, the Israeli government announced it would ban two U.S. Congresswomen--Rashida Tlaib (MI) and Ilhan Omar (MN) to Israel just days before they were to depart on a Congressional delegation. Churches for Middle East Peace (CMEP) strongly condemns this decision and calls on Prime Minister Netanyahu to reverse this action. Denying any member of Congress entrance to Israel is not an appropriate behavior of a democratic state, let alone an appropriate action for a strong U.S. ally. Read more
Other Faith-based Partners
AMP: Over 500 Strong on Capital Hill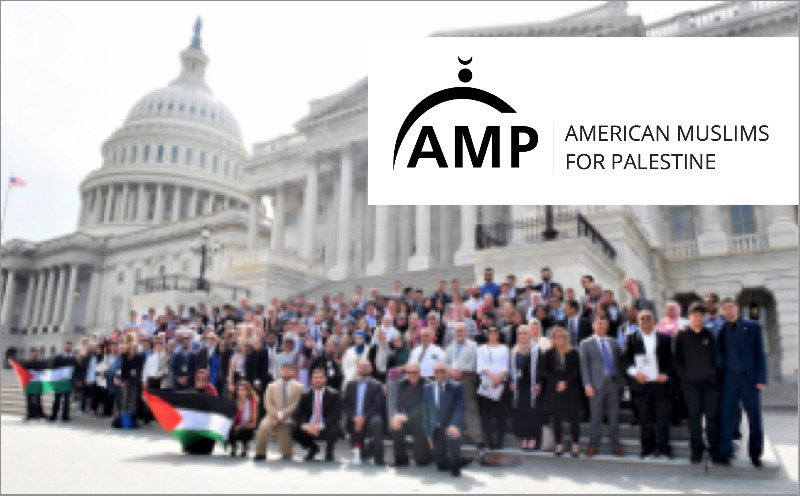 In April, American Muslims for Palestine (AMP) held their 5th Annual Advocacy Day and Training, their most successful ever with over 500 participants representing 32 states, and meeting with the offices of 191 Members of Congress.

The 3 main issues presented to lawmakers:
• SUPPORT Palestinian children's rights (HR 2407)
• OPPOSE unconstitutional (anti-BDS) laws
• SUPPORT aid and human rights for Gaza.
Rep. Rashida Tlaib addressed the delegation, emphasizing the importance of interconnected justice struggles from Palestinian human rights to the rights of immigrants and black communities in the U.S. Read AMP's full report
Other Faith-based Partners
JVP: "Zionism was a false and failed answer"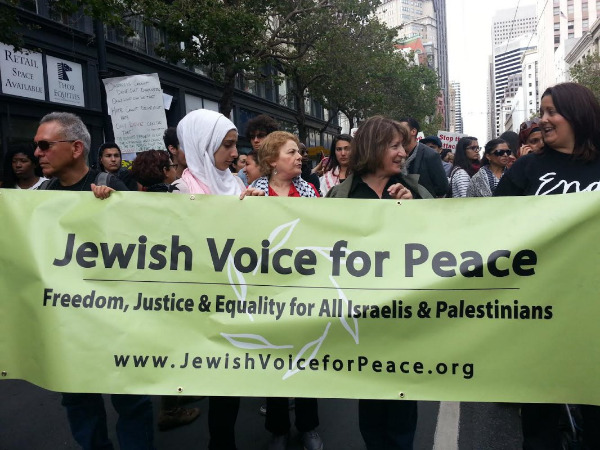 In January 2019, Jewish Voice for Peace published their official position on Zionism, one of the most contentious issues in the Jewish community worldwide. JVP engaged their members in an extensive process of study and discussion to produce this statement.
With tens of thousands of members and a communications network of hundreds of thousands, their thought-provoking declaration, "Our Approach to Zionism," will inevitably influence the US and global debate on Anti-Semitism vs. Anti-Zionism. See the statement
______________________________________________________________
📚 READ MORE:
+972 magazine: JVP just declared itself anti-Zionist and it's already shifting the conversation ◼︎ Jewish Currants: Roundtable: The Jewish Voice for Peace Statement on Zionism ◼︎ Mondoweiss: After years of study and discussion, Jewish Voice for Peace rejects Zionism
THE JVP STATEMENT: OUR APPROACH TO ZIONISM - EXCERPTS
"Jewish Voice for Peace is guided by a vision of justice, equality and freedom for all people. We unequivocally oppose Zionism because it is counter to those ideals.

"We know that opposing Zionism, or even discussing it, can be painful, can strike at the deepest trauma and greatest fears of many of us....European antisemitism threatened and ended millions of Jewish lives — in pogroms, in exile, and in the Holocaust."

"Through study and action, through deep relationship with Palestinians fighting for their own liberation, and through our own understanding of Jewish safety and self determination, we have come to see that Zionism was a false and failed answer to the desperately real question many of our ancestors faced of how to protect Jewish lives from murderous antisemitism in Europe."

"While it had many strains historically, the Zionism that took hold and stands today is a settler-colonial movement, establishing an apartheid state where Jews have more rights than others." SEE THE FULL STATEMENT
4.I
N
F
OCUS
🔎
⊲
BLACK-PALESTINIAN SOLIDARITY
⊳
Breaking Her Silence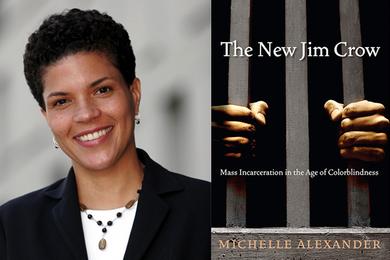 The revealing op-ed "Time to Break the Silence on Palestine," by the celebrated author of The New Jim Crow, Michelle Alexander, was published on the front page of NY Times Sunday Review for Martin Luther King Day in January.

Coming from a civil rights leader and author of Alexander's stature, her knowledgable examination of Martin Luther King's legacy and how that has led her - finally - to an unambiguous declaration of Palestinian solidarity has been called a "watershed" moment in the U.S. and global movement for Palestinian rights. See her editiorial
_______________________________________________________________________________________________
Showing How Solidarity Is Done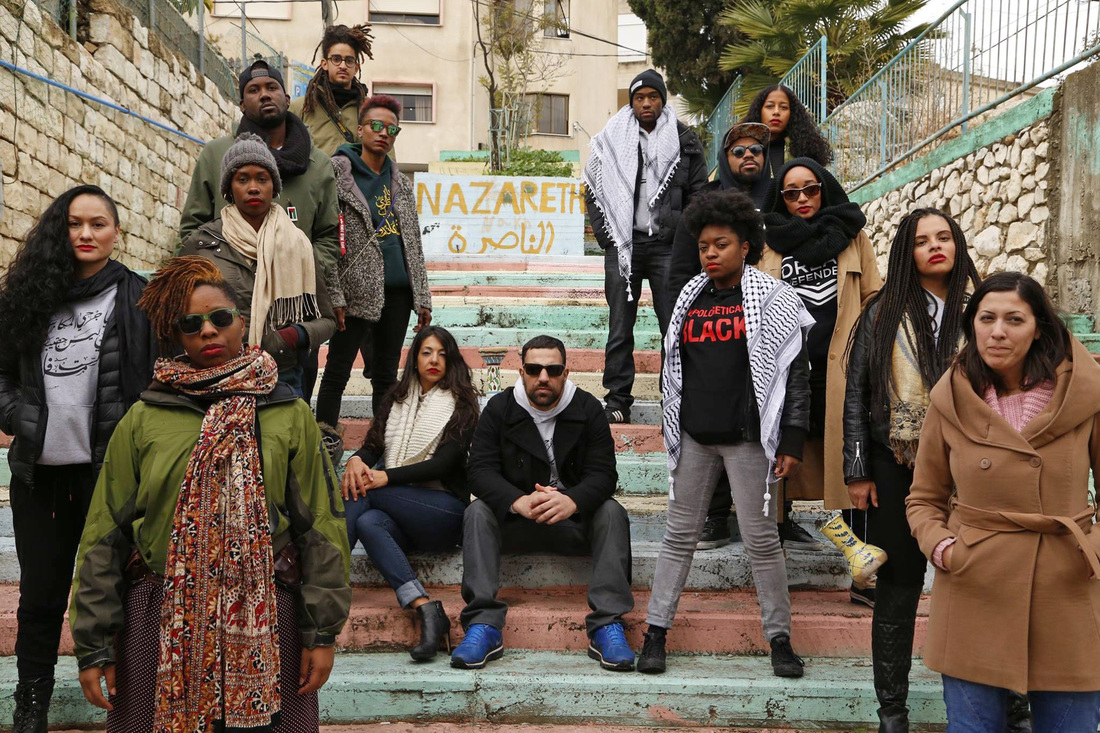 Inspired by Michelle Alexander's NY Times op-ed as well as other courageous truth-telling in recent years, UMKR has published the article: "African Americans Show How Palestinian Solidarity Is Done." We review Alexander's editorial, and the strong reactions it elicited, as well as Black-Palestinian solidarity in the US, including the Dream Defenders, and the Movement for Black Lives. See the article
African Americans, South Africans See and Speak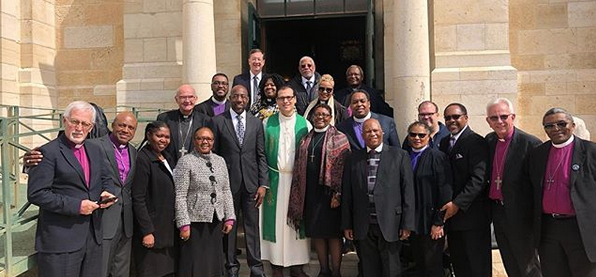 In February 2019, African American and South African leaders from the National Council of Churches (NCC) and the South African Council of Churches (SACC) visited Israel/Palestine, and subsequently published a humble and stirring statement of faith and commitment to action. See excerpts below.
Group Pilgrimage Statement on Israel and Palestine, from Leaders of Historically African American and South African Churches - EXCERPTS
"However, we recognize that many of us have been uninformed, and others of us been quite aware of the grim situation in this land, and we have been silent and turned a blind eye. We admit that silence in the face of injustice is complicity. Indeed, there were many Christians that were silent and closed their ears against the sound of the deadly apartheid jackboot in the lives of South African blacks."

"There were whole communities of Christians who not only condoned the untold dehumanization of people through slavery, but who thrived on that evil, and their slavery-sourced head-start has become the silent normal of today's social and economic landscape of the world. Communities and neighborhoods in Europe were silent and complicit to the horror of the Holocaust."
See the full statement
5.
T
HE
H
OLY
L
AND
B
ECKONS
⊲
CALLS FOR
RESPONSIBLE
TOURISM
⊳
Do No Harm!
In March 2019 – and with a title that should be familiar to many Methodists – Palestinian civil society called on international visitors, especially pilgrims, and all people of conscience "to do no harm to our nonviolent struggle for our rights under international law by respecting our ethical tourism guidelines." See their guidelines and actions
Ethical Travel; Challenge Apartheid Tourism
US Campaign for Palestinian Rights (USCPR) provides a wealth of resources for ethical tourism in Palestine, also applicable to other travel locations. At their website, see many types of recommended trips: by international organizations, with Palestinian and Syrian Golan tour operators, faith-oriented trips, and more.
Besides recommended handbooks, guides and maps, they also have resources on related topics: Challenge Corporate Complicity, Christian Zionist Pilgrimages, Politicians: Skip the Trip, and others. Explore ethical travel and trips with USCPR
Chicago Lawyers' Whitewashing Trip


Christian Palestinians of Kairos Palestine wrote to several Chicago lawyers associations (The Catholic Lawyers Guild, the Hispanic Lawyers Association of Illinois and the Chicago Bar Association) expressing strong concerns about their upcoming trip to Israel/Palestine. Those concerns included describing historic sites in the Occupied Palestinian Territories as being in Israel and promising "exclusive access to all three branches of Israeli government," but omitting any opportunities to meet with Palestinian and Israeli human rights leaders and organizations. Kairos Palestine asked them to consider altering their itinerary. The response was meager (2 groups did not reply at all) and no changes were made to the trip. See the Kairos Palestine statement
UMC Position on Holy Land Tours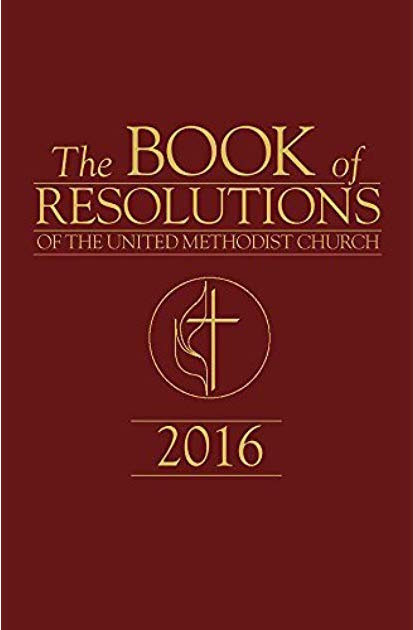 Re-adopted by the United Methodist General Conference over many years, including in 2016, Resolution #6031 issues a strong call by the United Methodist Church for responsible tourism in the Holy Land.

The church urges United Methodist bishops, clergy, members, agencies, and congregations to devote significant time during their tours for contact with the indigenous Palestinian Christians,
in order to:
WORSHIP with them
HEAR about their struggles for self-determination
STAY overnight in Bethlehem, and
VISIT United Methodist-supported mission projects.

The UMC also expresses deep concern that many tours arranged by United Methodist bishops, pastors, and laity do not schedule time to build relationships with the indigenous Christians, and declares that UMC bishops and all UMC organizers of Holy Land tours have a special responsibility to strengthen the witness of the Palestinian disciples in that land. See the resolution
⊲
"COME AND SEE"
⊳

That is what the Christians of Palestine IMPLORE us all to do: "Come and See."
Discover their remarkable and historic homeland
AND learn firsthand about their struggle for freedom and justice.

For a once-in-a-lifetime experience:
EXPLORE ancient biblical and historical sites,
MEET the "living stones"- the warm and welcoming people
of the Holy Land, and
LEARN the real facts on the ground today.

Come home REFRESHED in spirit and EMPOWERED
to be a knowledgeable peacemaker in your church or community.
Start planning now for a trip you've thought about all your life.
Trips on our website include tours led by experienced United Methodist leaders,
and many ecumenical and interfaith delegations.
See many upcoming trips listed below and
Visit our website to learn more about them!
⊲ TRIPS: 2019, 2020 & beyond ⊳
▶︎ FOSNA: The Holy Land from a Woman's Perspective
Sept 24 - Oct 4, 2019
FOSNA can also help you organize your own tour: Learn more
▶︎ Pilgrims of Ibillin: Living Stones Pilgrimages,
Led by Rev. Joan Deming, United Methodist clergy
Oct 15 - 28, 2019
▶︎ Christian Peacemaker Team (CPT)
Oct 22 - Nov 5, 2019 (Harvest Delegation)
Nov 30 - Dec 14, 2019
▶︎ In the Footsteps of Jesus Trips, led by Jeff and Janet Wright
January 6-17, 2020
January 24-February 4, 2020
▶︎ Tree of Life Educational Fund: A Journey Toward Hope
March 10-21, 2020

▶︎ UMC: Experience the Holy Land: Nazareth, Jerusalem and Bethlehem
Led by Janet Lahr Lewis, retired UM Missionary and former Methodist Liaison in Palestine and Israel
September 8-19, 2020

▶︎ Sabeel: Fall Solidarity Visit, led by Rev. Naim Ateek- co-founder of Sabeel
13 – 21 October 2020

▶︎ Sabeel: Spring Come & See, led by Rev. Naim Ateek- co-founder of Sabeel
16 – 24 March 2021

▶︎ Sabeel: Fall Solidarity Visit
5 – 13 October 2021

▶︎ Sabeel: Spring Come & See, led by Rev. Naim Ateek- co-founder of Sabeel
13 – 20 May 2022

▶︎ Sabeel: Fall Solidarity Visit
25 October – 2 November 2022
⊲ A SPECIAL OPPORTUNITY ⊳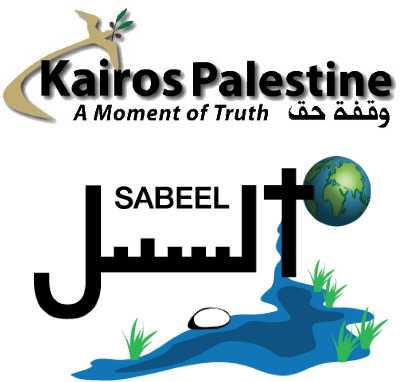 Back-to-Back Holy Land Events:
A Joint Invitation from Kairos Palestine & Sabeel
To help many supporters attend both events in one trip, these two leading Christian Palestinian organizations have scheduled their annual gatherings consecutively.

KAIROS PALESTINE: 29 November 2019
LOCATION: Dar Al Kalimah University College, Bethlehem
Kairos Palestine will be celebrating their 10th Anniversary this year! Their conference also coincides with the International Day of Solidarity with the Palestinian People on 29 November.
This conference will celebrate the accomplishments of the Kairos Palestine movement which is based on the document issued by the Palestinian Christian community in 2009; reflect on the current realities of life for Palestinians, and explore the future and its challenges.
Register for the Kairos Palestine Conference here

See the ONE DAY TRIPS that are available,
on that Karios Palestine registration form:
28 November in Jerusalem and 30 November in Bethlehem and Hebron.
SABEEL: 2-7 December 2019
Palestinian Theologies In Action:
An International Gathering for Friends and Supporters of Sabeel

LOCATION: Bethlehem and Jerusalem
A gathering of both local and international individuals to learn about different Palestinian theological Centers and movements that have evolved in relation to Palestine realities. The gathering will include mini conferences of such organizations as Al-Liqa, Bethlehem Bible College, Dar al-Kalima, Kairos Palestine, Musalaha, and Sabeel. In addition to the local theological movements and organizations the schedule will include exposure trips and workshops with over 30 organizations in Palestine and Israel who are working for Justice and peace. See a full description of the conference here Contact them at registration@sabeel.org.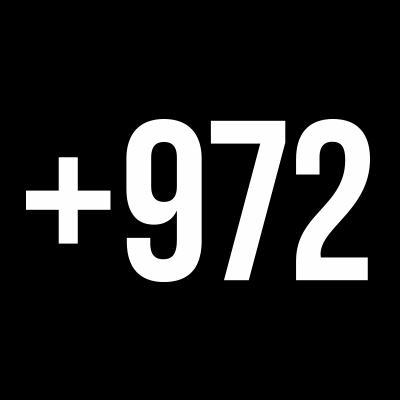 +972 Magazine is a web magazine based in Israel/Palestine that provides fresh, original, on-the-ground reporting and analysis of events in Israel and Palestine.

For those who don't have time to read about the issues you care about, +972 Magazine launched "The +972 Podcast." Every two weeks, you get their top-quality storytelling and analysis — in a podcast. They will be interviewing activists, politicians, and journalists: a diverse set of voices you won't find anywhere else…smart, interesting discussions about the issues and stories that other media outlets tend to ignore. FIND THEIR PODCASTS: https://972mag.com/tag/the-972-podcast/
______________________________________________________________

One of the top news sources for Palestinian Rights activists, EI is an independent online news publication and educational resource focusing on Palestine, its people, politics, culture and place in the world. EI's writers and reporters include Palestinians and others living inside Palestine and everywhere else that news about Palestine and Palestinians is made.

Some of EI's podcasts:
How "gay rights" group uses right-wing funding to promote Israel ◼︎ How Israel spies on US campaigners ◼︎ Demolishing the two-state fantasy ◼︎ Michigan professor punished for supporting boycott ◼︎ How Israel helps refine US tactics of repression ◼︎ Episcopal Church takes action for Palestinian rights. FIND THEIR PODCASTS: https://electronicintifada.net/blog/electronic-intifada-podcast
Visualizing Palestine:
Graphic Church Action and much more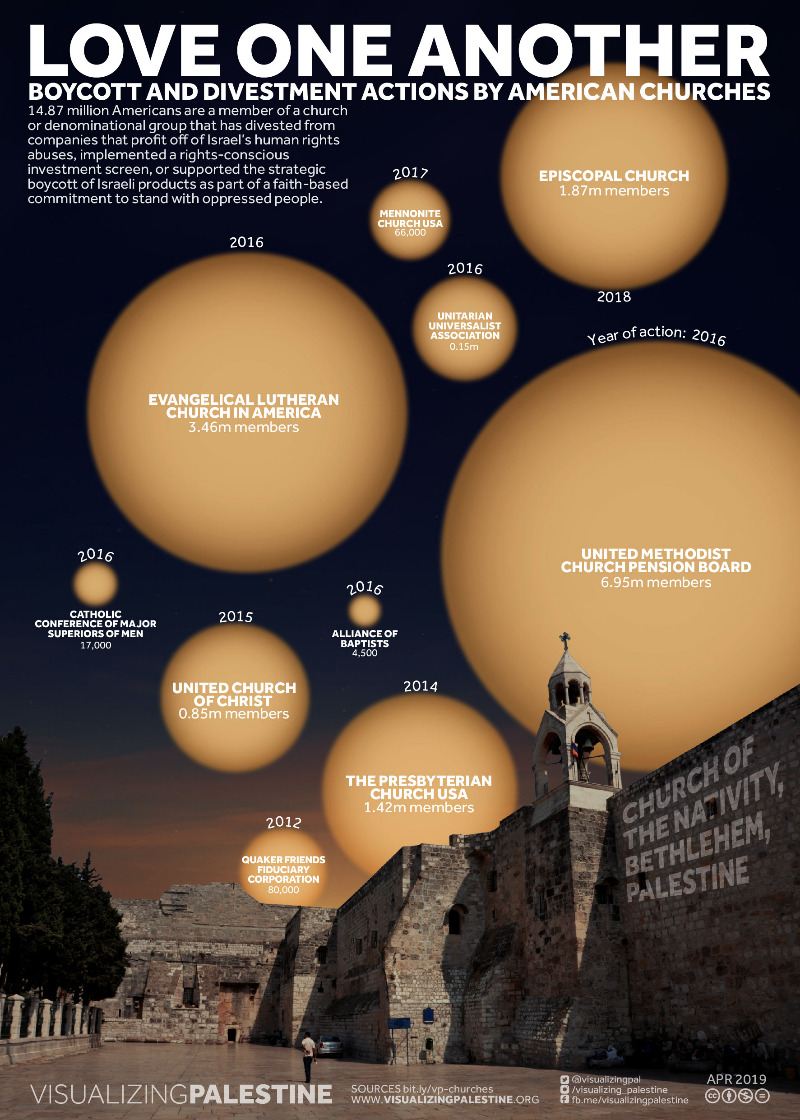 Visualizing Palestine has created an amazing collection that combines powerful facts and equally powerful graphic designs.

These communication tools cover a lot of ground, vividly illustrating the Palestinians' recent history, current realities on the ground, and actions in the global struggle for Palestinian rights.

Here we have one of their recent creations, about faith-based action in the United States. See it full size.

WHILE YOU'RE THERE: check out more of these powerful visual tools to share with others: visualizingpalestine.org

Remembering the Gaza War, an IMEU video series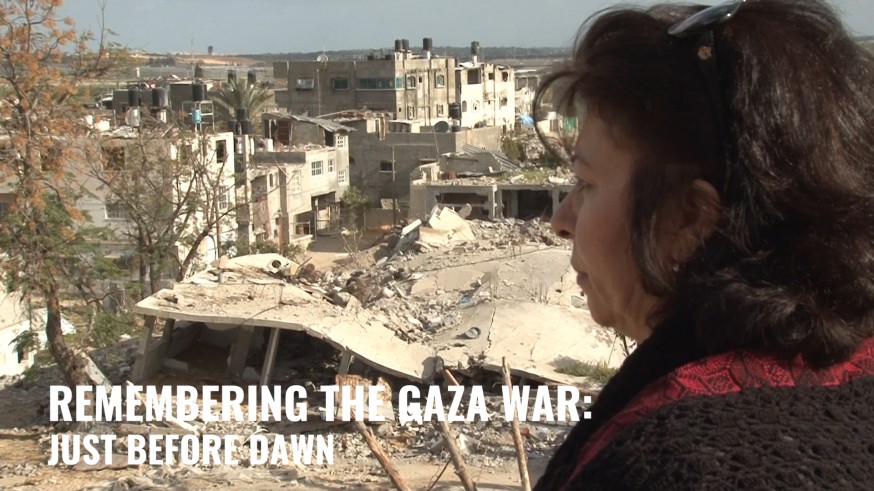 Five years ago, Israel launched a devastating 51-day assault on Gaza. They targeted homes, hospitals and schools and killed over 2,200 Palestinians, including more than 500 children.

IMEU has published five videos offering a powerful and poignant reminder of the human costs of siege and war on civilians in Gaza—while highlighting the hope that springs from the resilience of Palestinians in Gaza.
WATCH THE POWERFUL, 1-MINUTE TRAILER on YouTube
Find all the videos on IMEU's website
Palestine As a Queer Struggle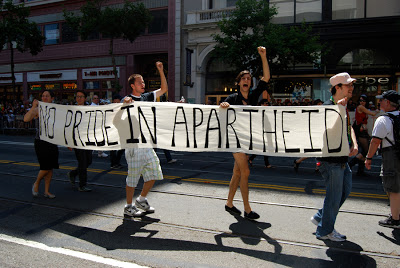 This the latest addition to a unique curriculum for intersectional, cross-movement justice action, created by the US Campaign for Palestinian Rights (USCPR): Freedom Bound: Resisting Zionism & White Supremacy.

HERE ARE SOME EXCERPTS:
"You cannot have queer liberation while apartheid, patriarchy, capitalism and other oppressions exist. It's important to target the connections of these oppressive forces."

"One cannot advocate for queer and trans people in the US while supporting Israel's daily aggression against queer and trans Palestinians, whose oppression is compounded by multiple marginalized identities."
"Pinkwashing juxtaposes a falsely progressive image of Israel with a racist portrayal of Palestinian, Arab, and Muslim societies as backwards, repressive, and intolerant. This is part of a long-standing colonial logic that uses racist, orientalist portrayals to justify Western colonization..."
"QUEER STRUGGLE" RESOURCES INCLUDE:
• Anti-Pinkwashing BDS Activism • Webinar: Palestine as a Queer Struggle
• Queer organizations challenging Israel • Videos, articles, and other resources
SEE THEM ALL HERE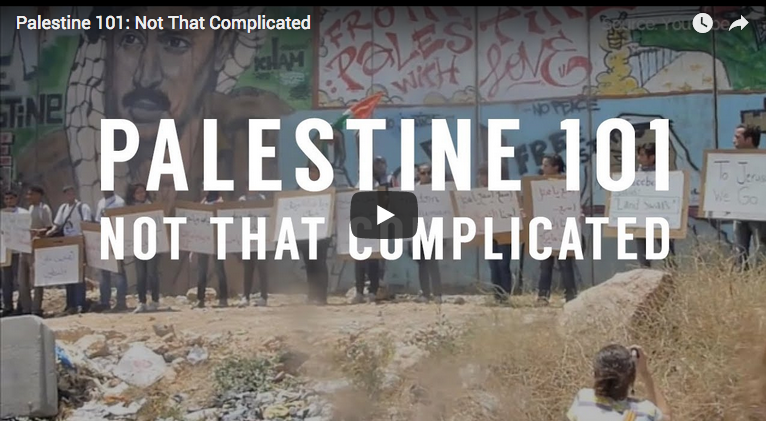 WHILE YOU'RE THERE: Explore the rest of USCPR's cutting-edge curriculum for learning and action!
• NOT THAT COMPLICATED: 101 information and resources to understand Israel's oppression of the Palestinian people.

• TOGETHER WE RISE: Skills-building, trainings, resources, and more to fight for justice from the US to Palestine.
Even as bullets hit bodies
their dream of return rose up
to the heavens
like black tire smoke curling,
dancing then disappearing
into a warm spring sky.
And in that very moment
their cries of pain transformed
into songs of joy and peals of laughter
yes in that one fleeting moment
the tear gas lifted and they knew
they were going home.
They will return.
Like water flowing back
down parched river beds
like seeds blossoming into life
out of the hard dry ground, like
rusted locks clicked open
by ancient keys
they will return.
To Safad to Hifa to Lydda
to al-Majdal to Ashdud
to al-Ramla and Bir Saba
they will return.
Though the thick dark smoke
obscures our vision today
we who have known dreaming
must surely know that
those who choke on their own tears
will return to harvest their fields
once again.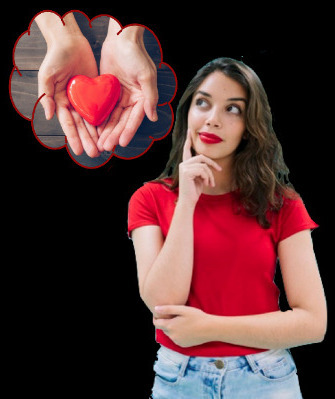 If you appreciate our news service and justice work,
PLEASE consider a donation
- large or small -
to keep UMKR's work going!

Wish you could do more, but can't all at once?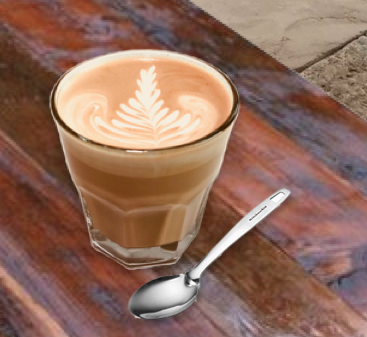 Would you try $5 per month?
About the cost of a large latte.
Pretty painless and it adds up to something
great for sustaining our work!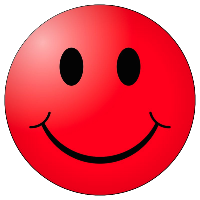 If monthly donations aren't your 'cup of latte,'
can you give $15 or $20 today?
Every gift makes a difference!

CLICK THE RED BUTTON below to donate securely online
OR to get our mailing address for a check: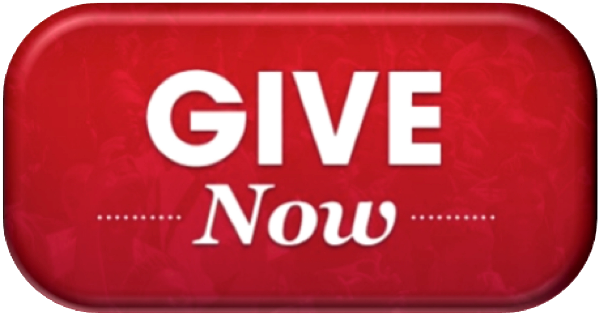 Was this email FORWARDED to you?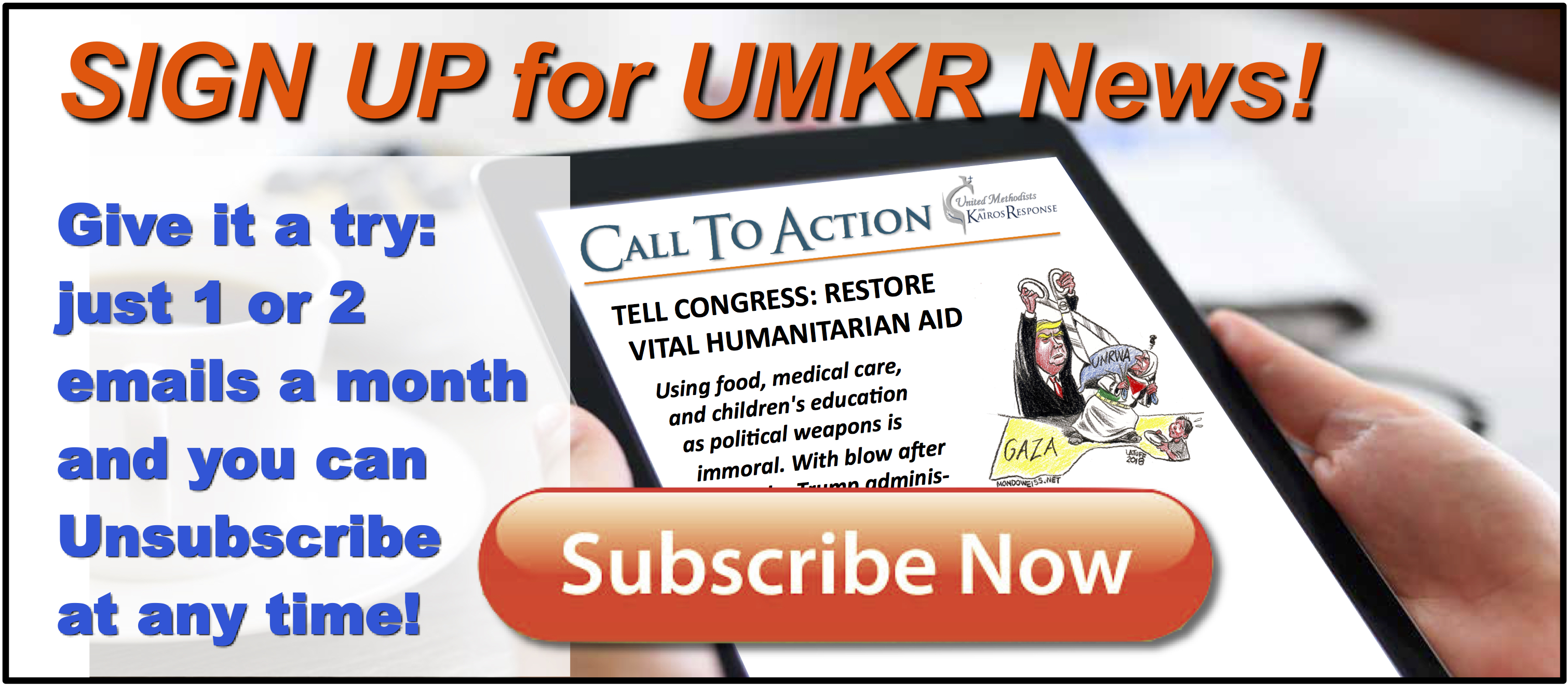 CONNECT with the latest UMKR action!
Find and follow us on Facebook and Twitter:
UMKR is an international grassroots peace movement of laity and clergy in the United Methodist Church. We are responding to the Palestinian Christians' urgent call, in Kairos Palestine: A Moment of Truth, for effective action to end the Israeli occupation and achieve a just peace in the Holy Land.
UMKR seeks – through nonviolent action and in partnership with our Palestinian sisters and brothers in Christ – freedom, justice and equality for all Palestinians and Israelis.
Learn more about UMKR
You have received this email because you have taken action with UMKR in the past or have signed up for our news and action. If you would like to Unsubscribe or make any other changes in your subscription, just click "Manage Subscription" below.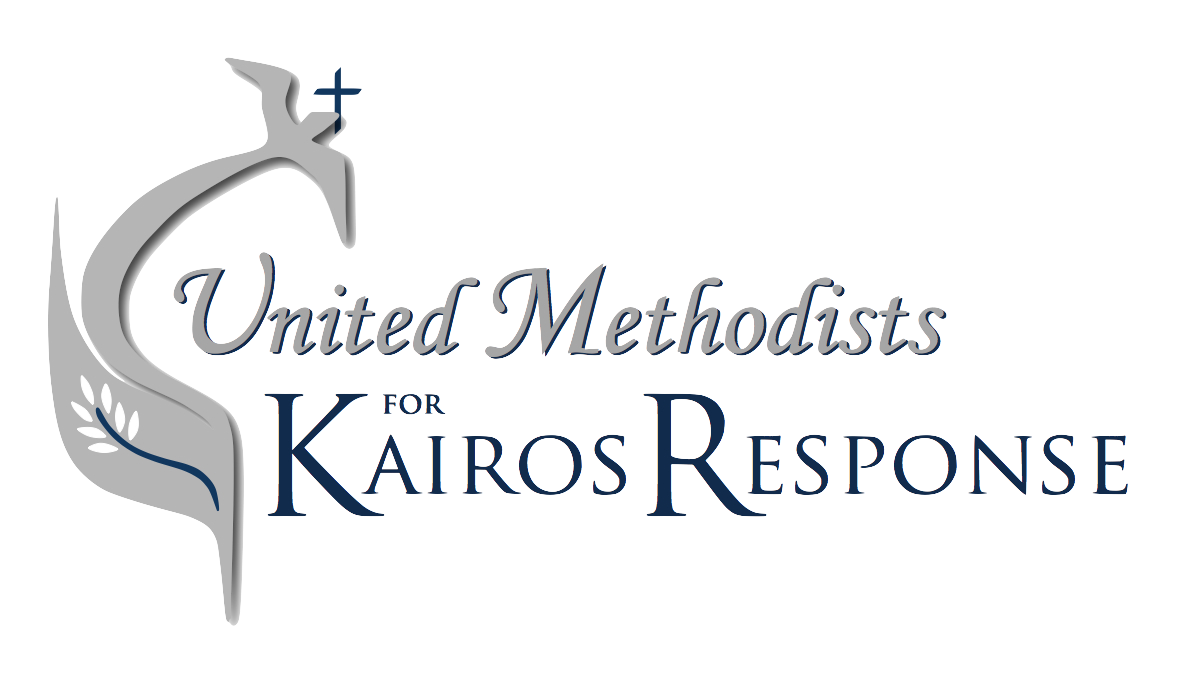 Our email address: info@kairosresponse.org
Our website: www.kairosresponse.org
Mailing address, general correspondence:
Rev. John Wagner, 120 South Broad Street,
Middletown, OH 45044
Mailing address, donations and financial:
William P. Aldrich, 42 Gaspee Point Drive,
Warwick, RI 02888
Please make checks payable to our fiscal agent:
Open Table of Christ UMC.
Write on the memo line: UMKR