Last week, the Israeli government shocked the world with its decision to designate six Palestinian human rights groups as "terrorist organizations."
The UN High Commissioner for Human Rights, Michelle Bachelet, described the decision as an "attack on human rights defenders, on freedoms of association, opinion and expression and on the right to public participation, and should be immediately revoked."

[See: Why is Israel Labeling Human Rights Groups 'Terrorists'?]
As a movement fighting for freedom and dignity for all Palestinians and Israelis, we cannot stand idly by as other groups fighting for human rights are attacked like this. All of us who believe in universal human rights should show our solidarity with these Palestinian human rights groups.
UMKR is co-sponsoring a Power Half-Hour tomorrow at 2pm ET / 11am PT to demand President Biden respond to Israel's unprecedented decision.
Join us for 30 minutes tomorrow
Wednesday, November 3rd, 2pm ET / 1pm CT / 12pm MT / 11am PT
#StandWithThe6: BE PART OF THE WAVE OF PEOPLE POWER
flooding the White House phones.
(There will be more to hear during this packed half-hour!)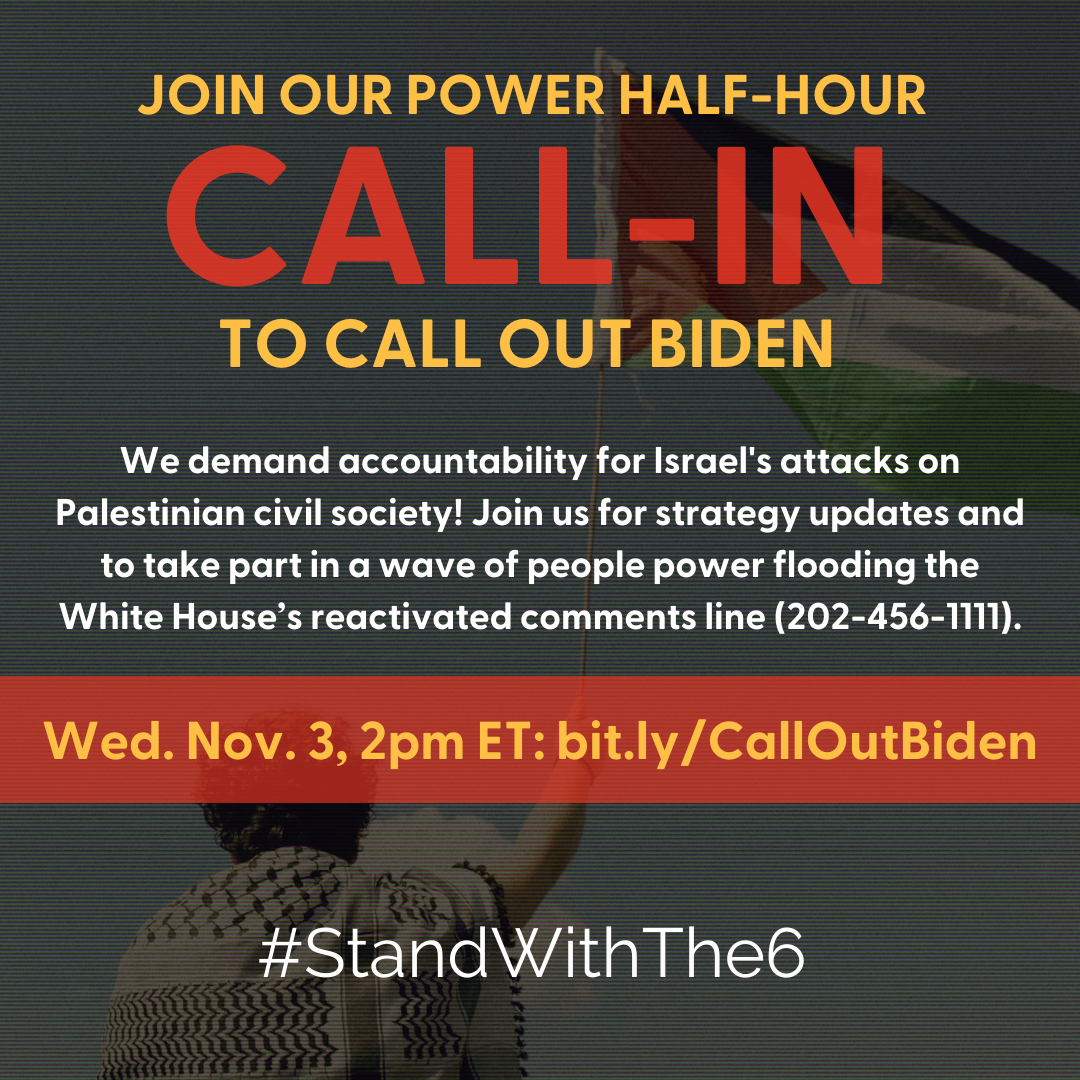 An anonymous source in Israel has admitted this slander was a manipulation to cut off funding for these groups, according to a report in the Israeli press.

[See: 'They targeted us for one reason: We're succeeding in changing the paradigm']

Also, an Israeli minister acknowledged that global outrage from human rights advocates and grassroots movements around the world (like us!) is damaging Israel's reputation.

Still, President Biden's administration has been shamefully silent—and his silence condones Israel's repression of human rights defenders and Israel's continued ethnic cleansing of Palestinian communities.
It's time to raise our voices louder and flood the White House phones!
Also in this half-hour:
▶︎ We'll lift up the Palestinian human rights advocacy of these groups that Israel is working so hard to silence.
▶︎ We'll hear some analysis about grassroots advocacy strategy in this moment.
▶︎ We'll also hear about the role the Biden administration is playing in the region right now — continuing to enable the Israeli government abuses that these organizations are working to expose: settler violence escalating weekly, expanding settlements confiscating land,
demolition of homes, schools, and entire communities, and aggressive criminalization of Palestinian life across Palestine.

It is long past the time to act.
As people of faith and people of conscience, we cannot stay quiet when faced with this cynical attempt to muzzle and intimidate human rights defenders who are resisting and exposing Israeli crimes against Palestinians.
Register for the Power Half-Hour call tomorrow.
Stay tuned for more action coming soon!