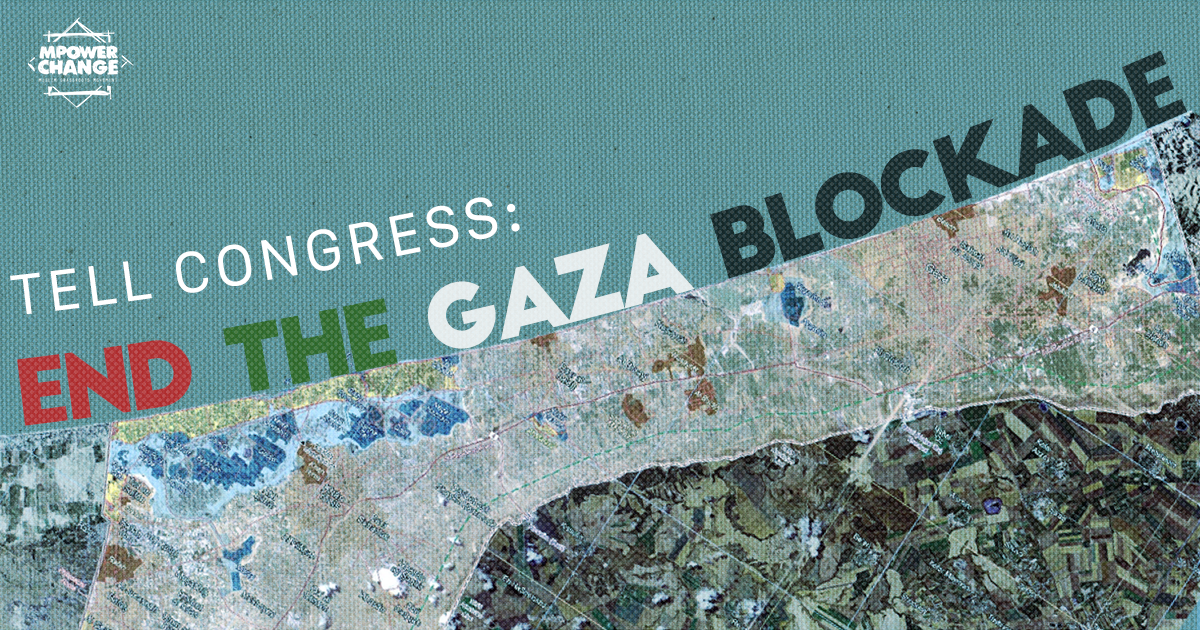 Palestinians in Gaza and the West Bank are among the most vulnerable populations in the world. This has never been more true than during the global COVID-19 pandemic.
They are coping with a harsh occupation regime and brutal blockade, at the same time that they are trying to stay safe from the coronavirus.
Communities under lockdown; travel between West Bank cities and towns is banned...
Settlers are exploiting the lockdown to steal more land and attack Palestinians in their homes...
Palestinian prisoners living in dangerous conditions are now being cut off from the world....
Soldiers are attacking and arresting dozens, including children...
Villages are harrassed, families evicted, and homes destroyed, during a pandemic!!

And perhaps most alarming...
Palestinians in the occupied territories have a severe lack of essential medicines, medical equipment, and hospital beds in the West Bank and, most of all, in Gaza.

Covid-19 has come to both the West Bank and Gaza. As of 30 March 2020:
115 cases reported in the Occupied Palestinian Territories:
106 in the West Bank; 9 in Gaza
1 death reported, in the West Bank
As we have seen around the world, these numbers can grow with alarming speed.
Get WHO's latest updates here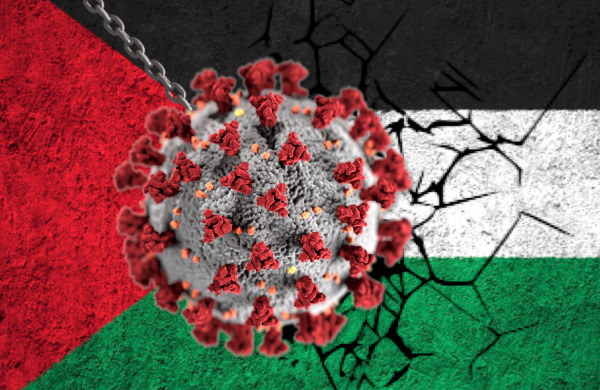 What is happening to Palestinians during the COVID-19 crisis? See a roundup of NEWS AND COMMENTARY
on our website.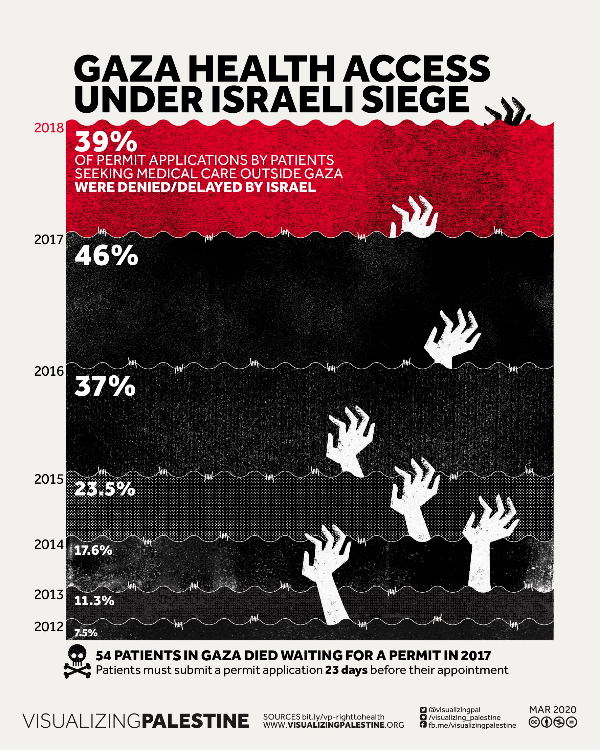 (Graphic: The World Health Organization data on Gaza paints a clear picture of the dismal health care conditions for Gaza: see this series of graphics from Visualizing Palestine)

Gaza is home to about 2 million people packed into a tiny area of 141 square miles and living under a brutal Israeli blockade for 14 years.

Israel's blockade has deprived them of so much that is essential for life, the UN predicted that Gaza would be "unlivable" by this year, 2020 - and many say that it truly is.



But Gazans have been imprisoned here for many years; very few can get permission to leave. So they have no choice but to live in what most would call "unlivable" conditions.

Gaza has access to 60 respirators, 2,800 hospital beds, and very few COVID-19 tests - for two million people. The way things stand now, the Ministry of Health in Gaza has said they can care for only 100 critical cases.

Health officials are warning that - under the Israeli blockade - containing and treating the coronavirus in Gaza will be nearly impossible.
There are several ways you can help these vulnerable communities of Palestinians during the COVID-19 crisis:
Yes, there are 5 actions in this alert;
please take EVERY action you can.
You've got this!

CONTACT THE U.S. CONGRESS
Those with a U.S. address
In this message you will urge your legislators to:
RESTORE the humanitarian aid for Palestinians that
the Trump Administration cut, and
CALL for Israel to end the blockade of Gaza.

Last month, 33 Representatives sent a letter to the State Dept. calling for US aid to Palestinians and for Israel's blockade of Gaza to end. And just a few days ago, nine Senators sent the State Dept a letter calling for aid to Palestine. These actions would never have happened just a few years ago! Congress has been hearing the repeated calls for Palestinians' rights that so many us have sent.
When you click the link below, on our action page you'll see which Reps and Senators signed those letters. And, if they are your legislators, you can easily add a quick 'Thank You' note to your message!

» CLICK to CONTACT CONGRESS NOW
You will review the message first.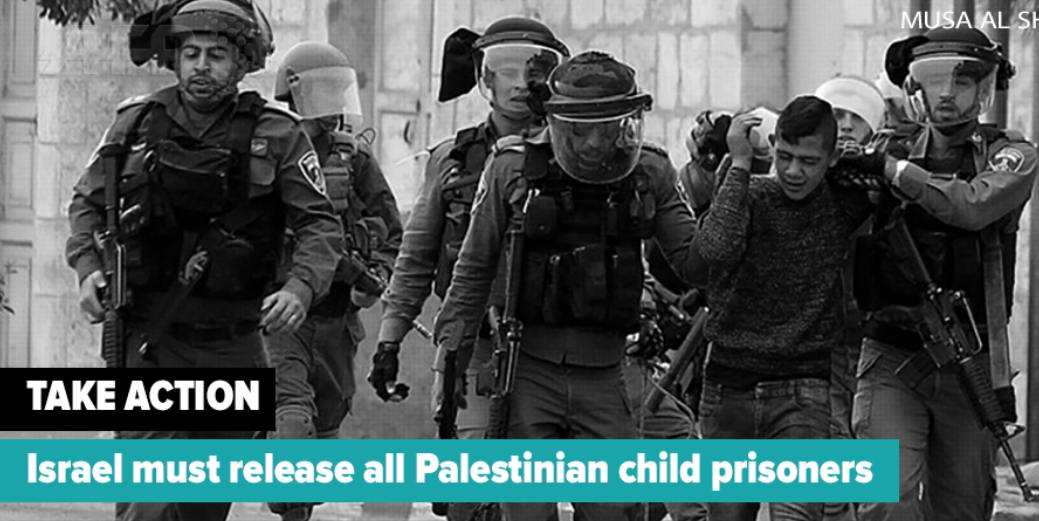 JOIN THE CALL to Release Palestinian Child Prisoners
with Defense for Children International – Palestine
For everyone
Palestinian prisoners are living in dangerously over crowded and unsanitary conditions. Israel holds hundreds of Palestinian minors in their prisons, almost all are there for throwing stones. Join the call to release these children, to remove them from the high risk of the virus reaching them in prison.
» READ & SIGN THE PETITION
CONTACT THE ISRAELI GOVERNMENT
For everyone
An Open Letter to Church Leaders from PCAP (Palestinian Christian Alliance for Peace), calls for those leaders to contact the Israeli government on behalf of the people of Gaza. Actually, that's something we ALL can do!
They should hear from people of faith and people of conscience all over the world who are calling for humane treatment of Palestinians, especially during this crisis.
At our website, UMKR has prepared a message to do this quickly and easily:
» SEND A MESSAGE TO ISRAEL'S PRIME MINISTER
You will see the message on our website.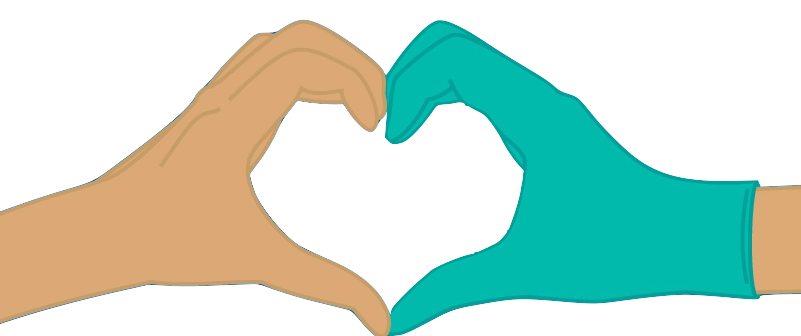 CONNECT & LEARN about conditions in Palestine & how we can help.
For everyone
While many of us are staying safe by staying home, many organizations are providing ways we can connect with each other and with Palestinians across the world.
On our website, UMKR is posting many of these digital events, as well as and campaigns we can support during the time of COVID-19. There are several this week - invite others to join you! Find them at this link:
» FIND & ATTEND AN EVENT ONLINE
SUPPORT HUMANITARIAN AID
For everyone
Help one of the courageous groups on the front lines in Palestine. If you would like to make a donation, we have a few suggestions: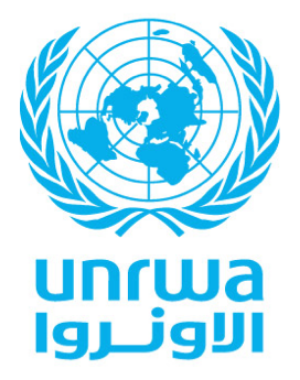 UNRWA is the primary UN agency that provides aid for Palestinian refugees: medical care, food, housing, and schools. At our website, learn more about UNRWA's vital work.
» Donate to UNRWA USA » Donate to global UNRWA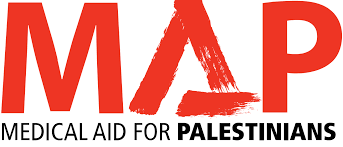 Medical Aid for Palestinians does excellent medical work in the occupied territories and Lebanon's refugee camps. » Donate online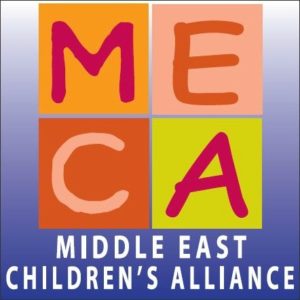 Middle East Children's Alliance has a special fund for this crisis: 'Emergency Medical Aid for Gaza.' » Donate online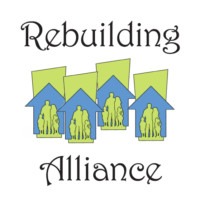 Rebuilding Alliance works with several partners in the occupied territories and has set up 'Palestine's Coronavirus Relief Fund.' » Donate online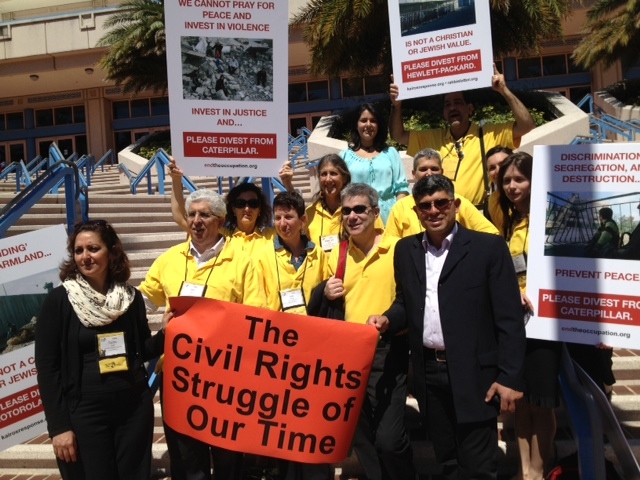 UMKR needs your help.
Although General Conference had to be postponed, we still have HUGE plans to reach thousands who will be attending: with headline-making speakers, powerful witness actions, compelling graphic materials, and an interactive display for visitors to learn about Palestinian rights! But these things can't happen unless we have help from all of you who believe in this work.
Please give whatever you are able; it will be gratefully received.
UMKR is an independent grassroots movement, not an official body of the denomination, so we depend on individual donors to keep our justice work going. Your donation is fully tax-deductible.



Was this email forwarded to you?