If you want to be on the right side of history for Israel/Palestine
– the side of universal human rights, freedom, and equality – we have TWO important actions for you. Read on...
The Trump administration has released "Peace to Prosperity," its plan for the future of Israel/Palestine, a proposal that favors only Israel and can never be called a "peace plan."
The United States has officially aligned itself with the extreme far right in Israel and has embraced their most outrageous demands:
▶︎ total control over all of Jerusalem, with no recognition of any Palestinian claim to this city sacred to three faiths,
▶︎ Israeli sovereignty over large swaths of Palestinian territory, in order to annex the West Bank settlements,
▶︎ annexation of the Jordan Valley, vital farmland for Palestinians and another huge portion of the West Bank,
▶︎ continued isolation for the 2 million Palestinians imprisoned and suffering in Gaza,
▶︎ Palestinians living in the bantustans reserved for them, surrounded and militarily controlled by Israel, with no independence or freedom, and
▶︎ potentially, the forced deportation of thousands of Palestinian citizens of Israel to those bantustans.
Does this sound a lot like the apartheid regime of South Africa?
The president of South Africa has said that too.
This week, 50 leaders in Europe - former Prime Ministers, Foreign Ministers, and Cabinet members - have issued a statement of deep concern, also making the apartheid comparison.
And soon after the Trump plan was announced, this graphic appeared around the internet: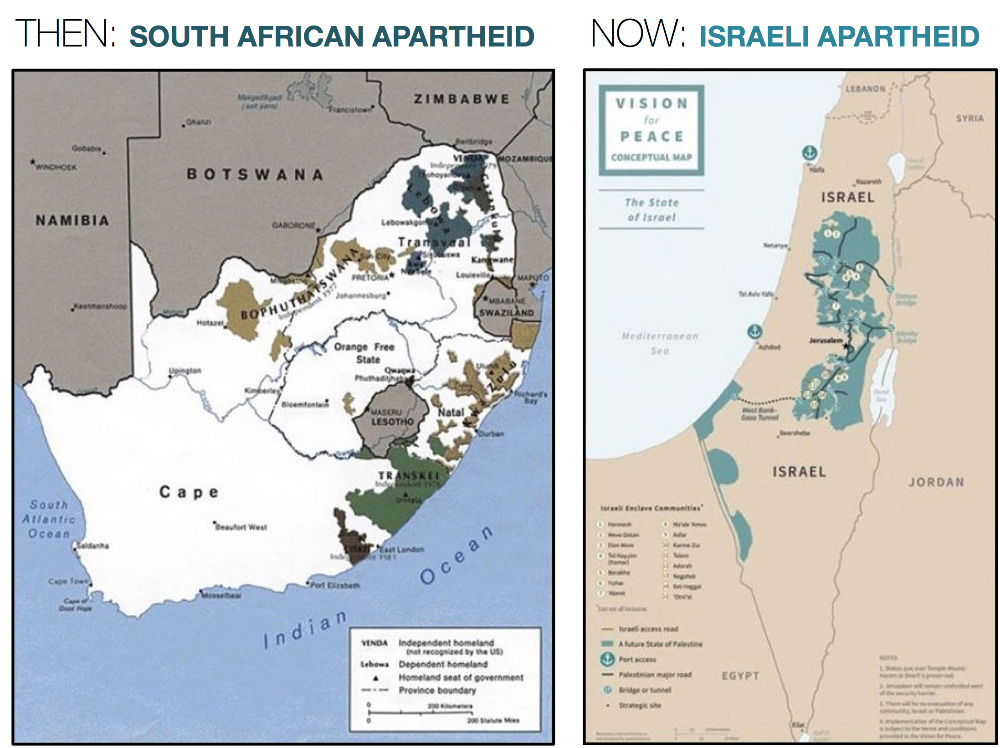 An independent Palestinian state, on a connected piece of land (just 22% of what they had originally), where Palestinians could live in dignity and freedom...is that too much to ask?
The answer in Washington and Tel Aviv is "Yes!" Any hope of self-determination for the Palestinian people has been thrown in the rubbish by Trump, Kushner, Netanyahu and the other architects of this insulting plan.
If you think Trump's plan is too extreme to be taken seriously or acted upon, consider this: Israeli leaders have already said Israel definitely will annex those regions named in the U.S. plan.
The Israeli government is not waiting for Palestinian agreement; they are already mapping out what land should be annexed, with the encouragement of the Trump administration.
Truly, the United States has become Israel's worst friend, a friend that encourages and enables its most destructive tendencies.
It's heartening that many Christian denominations and other faith communities have spoken up, opposing this unjust and destructive plan: see many of those faith-based responses at PalestinePortal.org