To view of this email in a web page and
to get the url address to share this:
CLICK HERE
Events of this month leave us heartbroken and grieving.
Also determined and even perhaps hopeful.
We thank God for the ceasefire. And we know it is not enough!
The world is waking up to Israel's aggression and injustice; NOW is the time to push forward as never before.
There is a lot to be done. We have political messages to send, suggestions for humanitarian aid, and a couple of petitions to sign.
Please do as many as you can!
Tell President Biden to Halt the Arms Sale,
Hold Israel Accountable
As if Israel were not well-enough armed, the State Department has just this month approved a new sale of $735 million in weapons to Israel. This sale is in addition to the $3.8 billion in military aid is Israel receiving from the U.S. Outrageously, the sale was hurriedly pushed through this month, despite the fact that Resolutions of Disapproval of the sale had been introduced in both the House and the Senate. The only way to prevent it now is for Biden to do say 'Stop.'
Tell the President he must allow Congress the opportunity to review and debate this sale!

Rather than rewarding Israel for the assault on Gaza, President Biden should heed the calls by human rights organizations, UN agencies, and millions of American citizens to hold Israel accountable for possible war crimes. The President pledged to put human rights and democracy at the center of his administration's foreign policy. Call on him now to fulfill that promise!
»» TAKE ACTION: CONTACT THE WHITE HOUSE
(You will review your message first.)
Crucial Actions for the U.S. Congress
We have just witnessed the Israeli military carry out a devastating assault on 2 million captive Palestinians in Gaza, killing more than 230, including well over 60 children, making 50 to 60,000 people homeless, destroying a major press center, and bombing dozens of schools and medical centers, including Gaza's only Covid-19 testing lab.
Several human rights organizations have accused Israel of bombing civilian areas indiscriminately, and Israeli soldiers have confirmed these war crimes in the past. The UN Human Rights Commission has voted to investigate possible war crimes in this year's assault. Also in 2021, two highly respected human rights organizations have published detailed reports on Israel's apartheid regime.
The U.S. must hold Israel accountable for its actions. Our country can no longer allow these crimes to be committed with impunity, especially not when so much of our tax dollars have been provided to Israel as military aid.

Tell your Legislators in Washington DC to:
• CALL on Pres. Biden to halt the $735 million weapons sale to Israel.
• SUPPORT efforts to bring humanitarian aid to Gaza and CALL for an end of Israel's life-threatening blockade of Gaza.
• COSPONSOR/SUPPORT H.R. 2590 in the House and INTRODUCE/SUPPORT a companion bill in the Senate.
»» Take Action: Contact Congress
Canada & UK Government Actions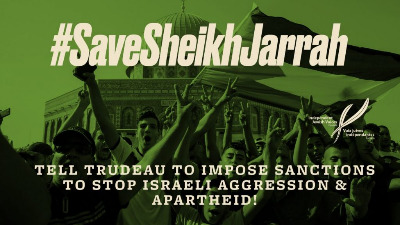 Tell Trudeau to Impose Sanctions
From Independent Jewish Voices-Canada
Gaza is under attack, and Jerusalem is being ethnically cleansed right before our eyes. Help us ramp up the pressure on the Trudeau government to stop Israeli aggression and war crimes. Send an email to Trudeau now demanding that the Canadian government forcefully condemn Israel's actions and follow its words up with consequences, including sanctions.
»» Take Action: Send a message here
(you will review the message before sending)
Protect Palestinians by Applying Canadian Law
From The Canadian Foreign Policy Institute and Just Peace Advocates
Write to Foreign Minister Garneau, Justice Minister Lametti, Revenue Minister Lebouthillier and all MPs to tell them Cananda must protect Palestinians from Israeli violence by applying its own laws.
»» Take Action: Send the message
(you will review it first)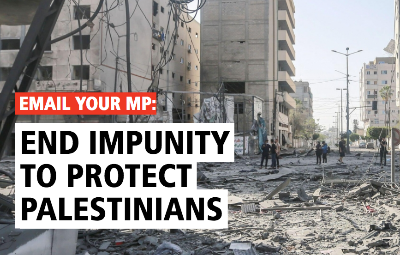 Tell the UK Parliament: End Impunity to Protect Palestinians
From Medical Aid for Palestine (MAP)
Urgent action is needed to end the widespread and systematic human rights abuses and discriminatory policies against Palestinians that lie at the root cause of recent hostilities. Email your MP today, and urge them to take immediate action to protect Palestinians.
»» See actions for the UK Parliament and contact them
UK Parliament: Introduce Sanctions Against Israel
Petition to be debated in Parliament on 14 June 2021
The Government should introduce sanctions against Israel, including blocking all trade, and in particular arms. Its disproportionate treatment of Palestinians and settlements that are regarded by the international community as illegal are an affront to civilised society.
»» Take Action: see this petition and sign it here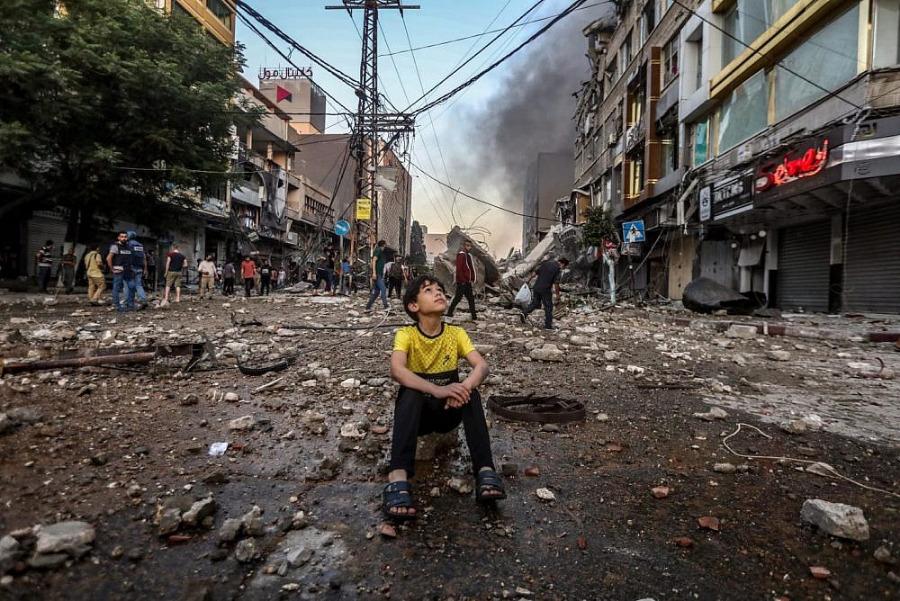 Help Palestinians Rebuild
Humanitarian aid for Gaza is needed urgently; there are many ways you can provide that. We have some suggestions - six respected organizations that are getting help where it is needed:
UNRWA, Medical Aid for Palestine (MAP), Middle East Children's Alliance (MECA), Rebuilding Alliance, American Friends Service Committee (AFSC), and our own United Methodist Committee on Relief (UMCOR).
"If there is a hell on earth, it is the lives of children in Gaza today."
UN Secretary-General Antonio Guterres, 20 May 2021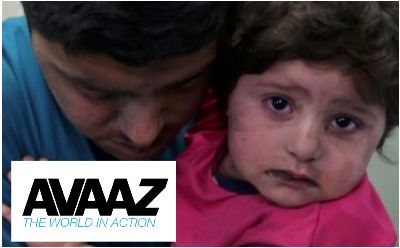 The Avaaz Petition
With a network of over 60 million supporters, Avaaz is the largest online movement for progressive action in the world. When they speak, world leaders pay attention. See and sign their petition to the US Secretary of State, Foreign Ministers, Parliamentarians and Heads of State worldwide: "End the Spiral of Violence: Sanctions Now!"
Over 3 million signatures and growing...
»» Take Action: Go to the Petition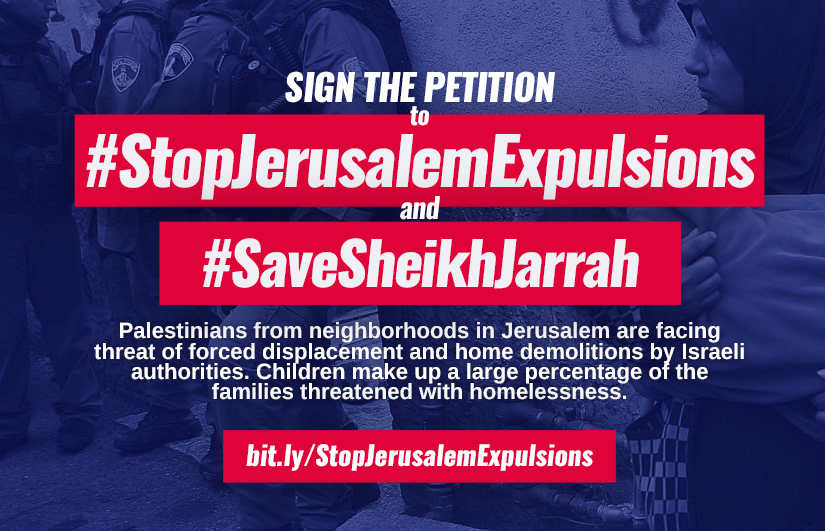 Stop Jerusalem Expulsions!
You have seen this one before, in our April alert actually. UMKR has been a key partner in the coalition organizing this action, and we are thrilled to see this petition pass 300,000 signers. If you haven't signed yet, do it now - help it get to 400K!

Hundreds of families – thousands of Jerusalemites, many of them children – are threatened with forced expulsions and demolitions of their homes. This is part of Israel's ongoing plans to change the demographics of Jerusalem, specifically to "judaize" the historically Arab neighborhoods of East Jerusalem, which is part of the West Bank, occupied territory.
FYI - It was Israel's escalation of ethnic cleansing in East Jerusalem, combined with attacks on worshipers in Al-Aqsa mosque, that instigated military action by Hamas and the horrifying Israeli bombardment that followed.
»» Take Action: Go to this Petition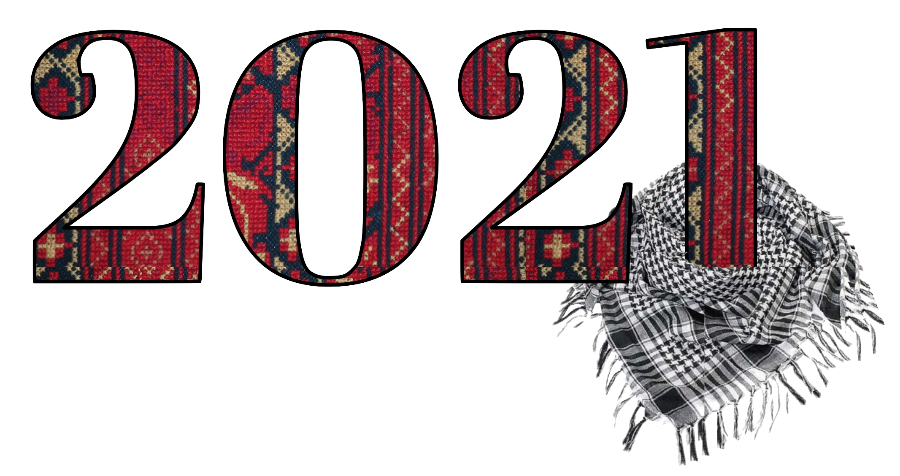 In the global movement for Palestinian Rights, UMKR is leading the efforts in the United Methodist Church.

To continue our justice
UMKR needs your help!
If you can't give much today,
please consider a small monthly donation.
It can be as low as $5 or $10 a month.
It is a tremendous way to sustain our advocacy work
throughout the year.
♥︎ One-time gifts are wonderful too. ♥︎
Can you give $15, $25, perhaps even $50?
Whatever you are able to give will be truly appreciated!
To make a donation online or by check, Click the green button: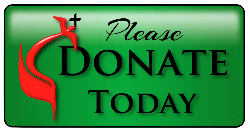 Was this email FORWARDED to you?
UMKR is an international grassroots movement of laity and clergy in the United Methodist Church. We are responding to the Palestinian Christians' urgent call, in Kairos Palestine: A Moment of Truth, for effective action to end the Israeli occupation and achieve a just peace in the Holy Land.
OUR GOAL: UMKR seeks – through nonviolent action and in partnership with Christians in Palestine – freedom, justice and equality for all Palestinians and Israelis. Learn more about UMKR
You have received this email because you have taken action with UMKR in the past or signed up for our news and action.
If you would like to Unsubscribe or make any other changes in your subscription, just click "Unsubscribe" at the bottom of this email.
Our email address: info@kairosresponse.org
Our website: www.kairosresponse.org
Mailing address, general correspondence:
Rev. John Wagner, 120 South Broad Street,
Middletown, OH 45044
Mailing address, donations and financial:
William P. Aldrich, 42 Gaspee Point Drive,
Warwick, RI 02888
Please make checks payable to our fiscal agent:
Open Table of Christ UMC.
Write on the memo line: UMKR