To view of this email in a web page and
to get the url address to share this:
CLICK HERE
This is an ongoing story that will not end soon, sadly...
Israel is ramping up its efforts to ethnically cleanse East Jerusalem of thousand of Palestinians living in buildings that settlers want to take over or on land where Israel wants to create a special park for visitors.
The destruction of properties has begun.
Our partners in Palestine are calling on us to continue organizing, protesting and pressuring governments to act as more demolitions are coming.
Today, July 8th is an international Day of Action to #SaveJerusalem.
We have a variety of action opportunities:
do them on or after the 8th!
► CONTACT elected leaders in the US, Canada, and the UK
► HEAR from organizers in Jerusalem: Stop the Wall and AFSC events
► RAISE awareness on social media
► LEARN MORE about what's happening: video, audio, and print resources
TELL CONGRESS WE WANT TO #SAVEJERUSALEM!
and #Save Gaza
FOR THOSE WITH A U.S. ADDRESS.
The latest Israeli attack on Gaza killed at least 242 Palestinians including 66 children, and destroyed homes, businesses, and vital infrastructure. Thirteen Israelis including two children were killed also.
The catalyst for this violence were the actions by Israeli forces against Palestinian residents of Jerusalem and worshippers at Al Aqsa Mosque in Jerusalem. Now, even after such terrible destruction and death in May, Israel is again moving to displace East Jerusalem families for the sake of settlers who want to take over their homes and to demolish homes and property for land development. Hundreds of families - thousands of Palestinians including many children - are at risk of losing their home, their land and their community.
The U.S. Congress must speak out against the Jerusalem evictions and demolitions and tell Pres. Biden these actions by Israel must be strenuously opposed by his administration.
Congress and the White House must also urge Israel to respect the holy sites of Jerusalem and desist from all violations of and attacks on Al Aqsa mosque.
Instead of calling for accountability for Israel's actions this year, the Biden administration has rewarded Israel with a new sale of $735 million in weapons. At the same time, the Biden administration has committed just $5 million to support reconstruction in Gaza—a small fraction of what is needed by a desperate and blockaded community of two million.
Congress and the Biden Administration must ensure that the destruction and harm caused by Israel's attacks on Gaza are addressed. That means not only committing adequate funding to help Palestinians in Gaza, but also demanding an end to the 14-year-old Gaza blockade. Without ending the blockade, Gaza cannot recover.
»» Take Action: Contact Congress now
IN CANADA & THE UNITED KINGDOM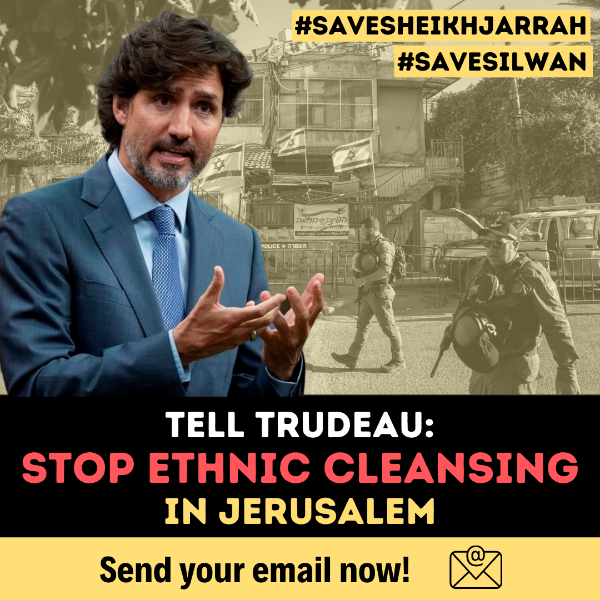 Tell Trudeau & MPs:
Stop Ethnic Cleansing in Jerusalem
Canadians for Justice and Peace in the Middle East


Time is running out for Sheikh Jarrah and Silwan!
More than 1,000 Palestinians in East Jerusalem are at risk of forced eviction, a crime under international law. Although Canada has expressed concerns about the evictions, concrete action is urgently needed to prevent this act of ethnic cleansing.
Send an email to the Prime Minister, your local MP, and other Canadian political leaders and diplomats. Save Sheikh Jarrah and Silwan, stop ethnic cleansing in Jerusalem!
»» Take Action: send a message here
(you will review the message before sending)
________________________________________________________________________
Tell the UK Foreign Office: #SaveSilwan #SaveJerusalem


1500 Palestinians in Silwan, occupied East Jerusalem are facing ethnic cleansing. Israel is demolishing their livelihoods & homes, attempting to replace them with illegal settlers as we speak.
Write to the Foreign Office immediately!
»» bit.ly/SilwanEAction

See the recording of PSC's webinar: "Let's Talk About Jerusalem."
Click the picture: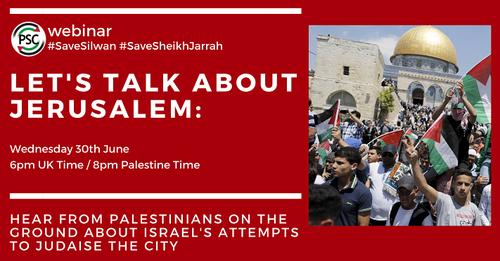 See PSC's short video explainer - click the picture: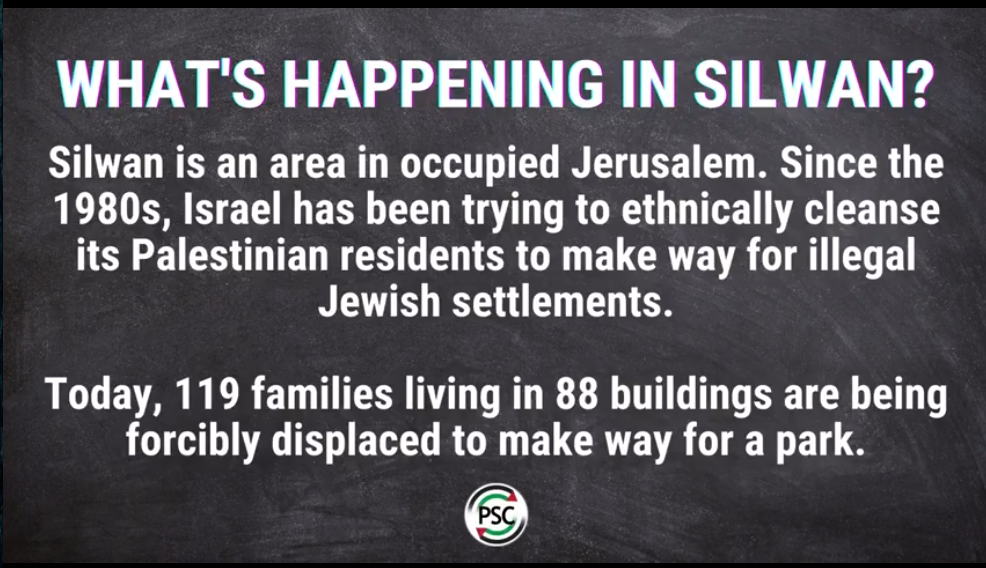 WE CAN'T STOP NOW!
SEE THE WEBINAR on Thursday, 8 July 2021
10am PT, 1pm ET (US, Canada) / 5pm UTC / 8pm Palestine
No registration required. Save this email and...
»» Click this link to join the webinar on July 8th
(Interpretation available in Spanish and French)
If you miss the live event, see this action page for the recording.
Palestinians continue to resist the mass ethnic cleansing of Jerusalem as the Israeli demolition of their homes has just started. Global solidarity has been crucial in supporting the families and their struggle.
Join this webinar to hear from organizers on the ground in Jerusalem:
➨ Dawood Al-Ghoul, Silwan, Jerusalem
➨ Amany Odeh, Al-Bustan neighborhood, Silwan, Jerusalem
➨ Zakariya Odeh, Lifta, Jerusalem
➨ (Fourth speaker, TBA), Sheikh Jarrah, Jerusalem
➨ Moderator: Manal Shqair, Stop the Wall Campaign
This event is organized by the Stop the Wall Campaign.

Co-sponsored by:
ECCP-European Coordination of Committees and Associations for Palestine;
United Methodists for Kairos Response (UMKR); American Muslims for Palestine (AMP); Eyewitness Palestine; and other partners.
No registration required. Save this email and...
»» Click this link to join the webinar on July 8th
When we receive it, check for the recorded webinar on Stop the Wall's action page for #SaveJerusalem.
Forced Displacement in Palestine
8 July 2021
1pm PT/4pm ET (US, Canada) / 8pm UTC / 10pm Palestine
A Facebook Live event, presented by AFSC.
Tune in, at AFSC's Facebook page
Didn't get to see it Live? Find recordings of AFSC's FB programs

Thousands of Palestinians are at risk of losing their homes due to the Israeli government's policies of forced displacement. Join AFSC's Sahar Vardi and Dawood Hammoudeh as they report on this urgent situation in the occupied West Bank including East Jerusalem.
Dawood is AFSC's Acting Country Representative for Palestine. He is a Palestinian, Jerusalem-based activist and worked with Stop the Wall and other groups before joining AFSC. Sahar has worked with AFSC for the last 10 years and is also based in Jerusalem. She has spent the last four months living in South Hebron while supporting communities there that are facing displacement pressures and settler/military violence. She has also been involved in with the Sheikh Jarrah solidarity community for over a decade.
Sahar and Vardi will speak about both current demolitions and displacement threats, as well as long term policies and trends. They will speak for 15-20 minutes then open for questions and dialogue.
NEWS, COMMENTARY, RESOURCES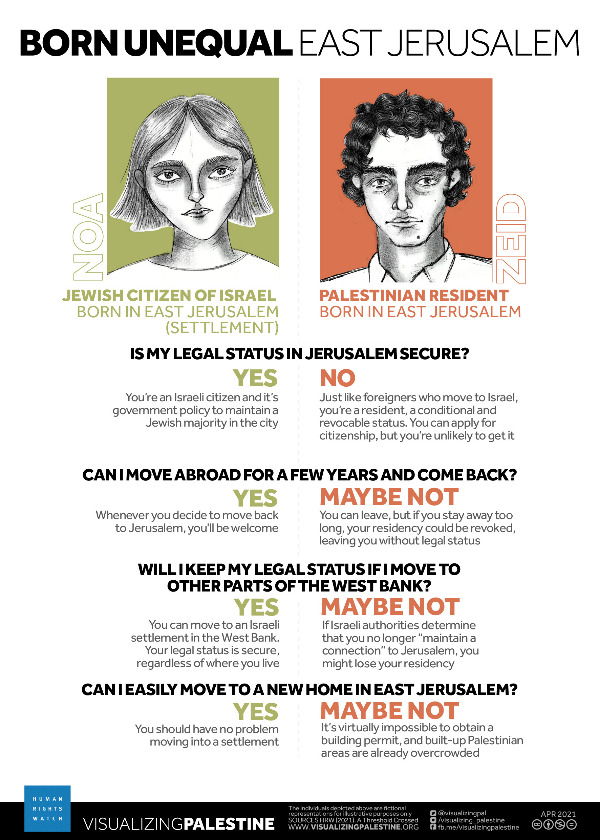 Infographic
Born Unequal: East Jerusalem from Visualizing Palestine
See it here and exlore the website

VIDEO/AUDIO
Palestine Solidarity Campaign:
Webinar recording: Let's Talk about Jerusalem See it here
Short Video Explainer on Silwan
See it here

Middle East Eye video:
Explained: What is happening in Sheikh Jarrah?
See it here

IMEU podcast:
The Ethnic Cleansing of Sheikh Jarrah with Diana Buttu and Omar Badar
Listen here

Just Vision Film: My Neighborhood
Award-winning film about the remarkable nonviolent struggle against settlement expansion in East Jerusalem (25 mins)
Watch it here: https://justvision.org/myneighbourhood/watch
Learn more about it: https://justvision.org/myneighbourhood
PRINT
Save Sheikh Jarrah: Palestinians have a right to remain on their land
Middle East Eye • 23 March 2021 Find it here
The ongoing Nakba in Jerusalem
Electronic Intifada • 28 March 2021 Find it here
Sheikh Jarrah explained: The past and present of East Jerusalem
Middle East Eye • 6 May 2021 Find it here
Opinion | Sheikh Jarrah and the violent brazenness of Israel's colonialist project
Washington Post • 10 May 2021 Find it here
Fear and fury in Sheikh Jarrah
Electronic Intifada • 12 May 2021 Find it here
Palestinians of Silwan: The unwanted owners of the land
Stop the Wall • 25 May 2021 Find it here
Silwan explained: How history and religion are exploited to displace Palestinians
Middle East Eye • 14 June 2021 Find it here
#SaveSilwan: 1,500 Palestinians under imminent threat of displacement
Mondoweiss • 27 June 2021 Find it here
Police, Palestinians Clash as Israel Begins Demolition in Jerusalem's Silwan
Haaretz • 29 June 20201 Find it here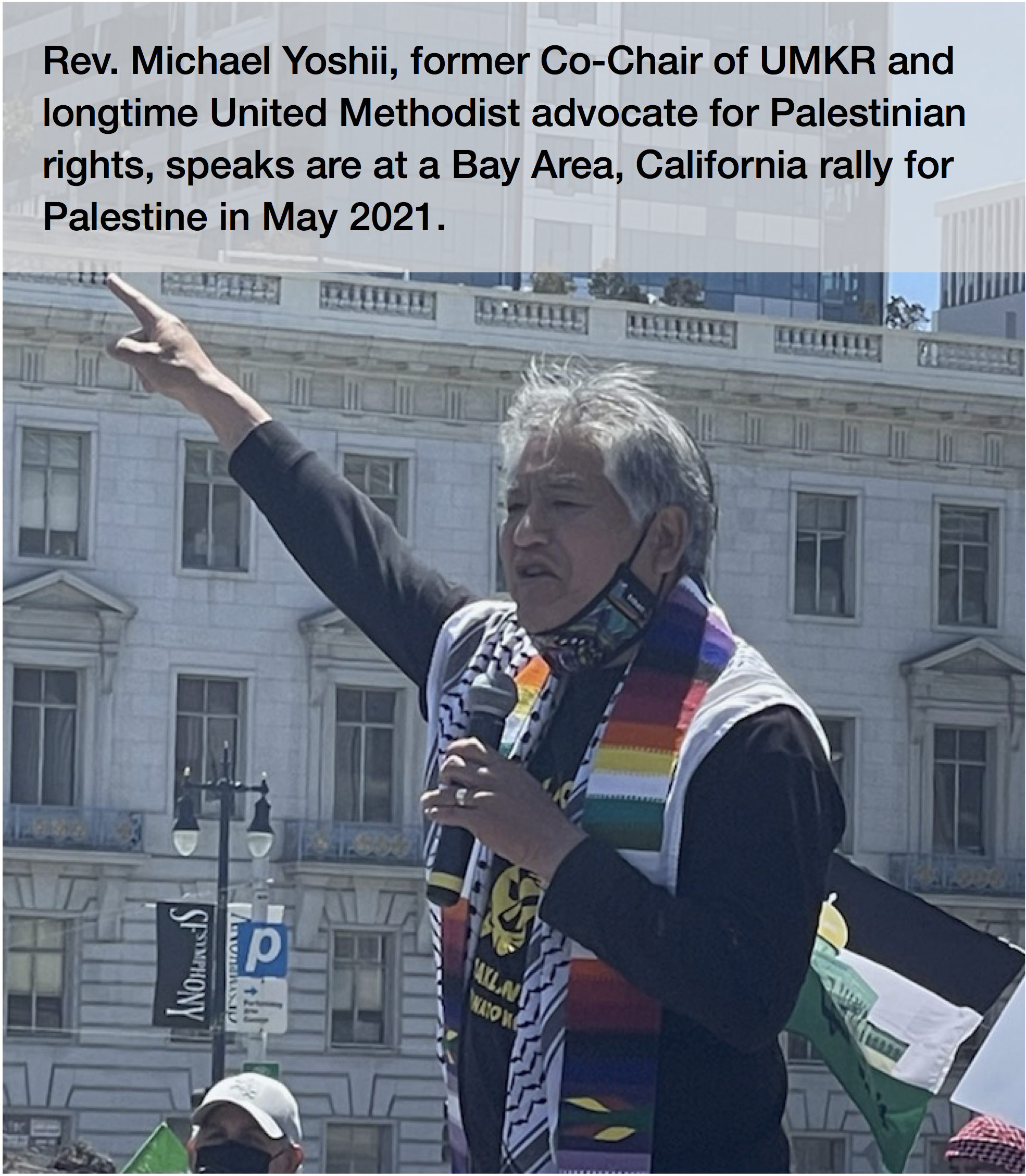 UMKR is leading the struggle for Palestinian rights in the United Methodist Church.

We also provide vital leadership in broader faith-based and secular coalitions in the US and across the world.

To continue our justice work, UMKR needs your help. If you can't give much today,
please consider a small monthly donation.
It can be as low as $5 or $10 a month.
This is a tremendous way to sustain our advocacy work
throughout the year.
♥︎ One-time gifts are wonderful too. ♥︎
Can you give $15, $25, $50, perhaps even $100?
Whatever amount you are able to give will be truly appreciated!
To make any donation, online or by check, click the green button: